Meet at 10AM Saturday November 22nd at Georgia's Stephen C. Foster State Park near Fargo, GA, and paddle into the park and back. Bring a boat, or you can rent one at the park. WWALS board member and veteran boater Bret Wagenhorst will be our guide. Facebook event.
This event is FREE! All we ask is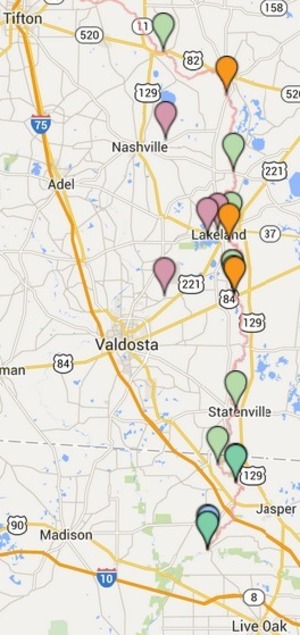 that you are a current member of WWALS Watershed Coalition. If not, its easy to join online today at /donations/. You do not have to be a member to come on this outing. If you like the experience, we recommend that you join to support the efforts of WWALS. WWALS is an advocacy organization working for watershed conservation of the Willacoochee, Withlacoochee, Alapaha, and Little River Systems watershed in south Georgia and north Florida through awareness, environmental monitoring, and citizen advocacy.
The Okefenokee is outside the usual WWALS area, but WWALS is developing an Alapaha River Water Trail, for which this trip is research. And this trip is on the Suwannee River, upstream of where WWALS' Alapaha and Withlacoochee Rivers join it.
Don't forget the WWALS 26 October 2014 Alapaha Sink Outing.
Directions to the Fargo, GA gate of Georgia's Stephen C. Foster State Park
US 441 from the north or south, or GA 94 from the west or east, are the roads to Fargo, and from there GA 177 another 18 miles northeast to the park.
Address: 17515 Georgia Highway 177, Fargo, GA 31631
GPS: 30.8269500 -82.3621000 or 30° 49′ 37.02″ N, 82° 21′ 43.5594″ W.
See also the Okefenokee Wilderness Area Canoe Trails organized by the U.S. Fish and Wildlife Service.
-jsq
Short Link: