We saw the ruins in October; here's a picture when it was still standing.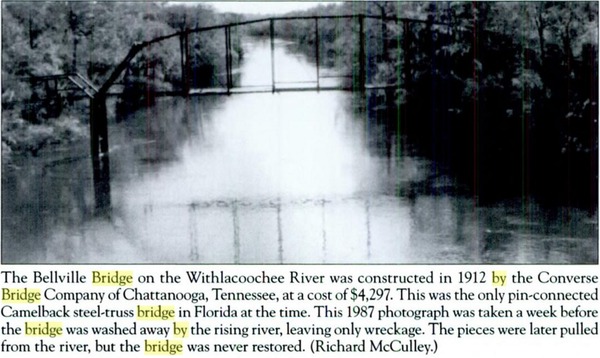 Picture from Hamilton County, by Marsanne Petty, on page 13 (Richard McCulley); found by Chris Mericle.
The caption reads:
The Bellville Bridge on the Withlacoochee River was constructed in 1912 by the CConverse Bridge Company of Chattanooga, Tennessee, at a cost of $4,297. This was the only pin-connected Camelback steel-truss bridge in Florida at the time. This 1987 photograph was taken a week before the bridge was washed away by the rising river, leaving only wreckage. The pieces were later pulled from the river, but the bridge was never restored. (Richard McCulley.)
As we saw on the WWALS outing, Sullivan Launch to Madison Blue Spring Withlacoochee River 2015-10-24, they didn't pull quite everything from the river, since there are still cables and girders on the Hamilton County side.
-jsq
You can join this fun and work by becoming a WWALS member today!
Short Link: