Wow! They're not kidding around. Suwannee County calls on the U.S. Army Corps of Engineers to keep the Sabal Trail invading pipeline out of Suwannee County and out of the state of Florida.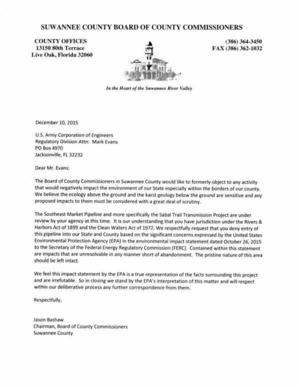 Here's the agenda for tomorrow morning's 9:30 AM Thursday December 10th 2015 meeting:
SUWANNEE COUNTY BOARD OF COUNTY COMMISSIONERS
COUNCIL MEETING ROOM
LIVE OAK CITY HALL
101 SOUTHEAST WHITE AVENUE
LIVE OAK, FLORIDA

TENTATIVE AGENDA FOR SPECIAL-CALLED MEETING
THURSDAY, DECEMBER 10, 2015

Consider sending a letter from the Board to the US Army Corps of Engineers and Federal Energy Regulatory Commission pertaining to the Sabal Trail Pipeline.
Here's the draft letter: Continue reading →