Wow! They're not kidding around. Suwannee County calls on the U.S. Army Corps of Engineers to keep the Sabal Trail invading pipeline out of Suwannee County and out of the state of Florida.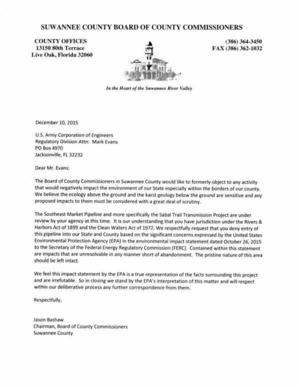 Here's the agenda for tomorrow morning's 9:30 AM Thursday December 10th 2015 meeting:
SUWANNEE COUNTY BOARD OF COUNTY COMMISSIONERS
COUNCIL MEETING ROOM
LIVE OAK CITY HALL
101 SOUTHEAST WHITE AVENUE
LIVE OAK, FLORIDA

TENTATIVE AGENDA FOR SPECIAL-CALLED MEETING
THURSDAY, DECEMBER 10, 2015

Consider sending a letter from the Board to the US Army Corps of Engineers and Federal Energy Regulatory Commission pertaining to the Sabal Trail Pipeline.
Here's the draft letter:
SUWANNEE COUNTY BOARD OF COUNTY COMMISSIONERS

(386) 364-3450
FAX (386) 362-1032

COUNTY OFFICES
13150 80th Terrace
Live Oak, Florida 32060

In the Heart of the Suwannee River Valley

December 10, 2015

U.S. Army Corporation of Engineers
Regulatory Division Attn: Mark Evans
PO Box 4970
Jacksonville, FL 32232

Dear Mr. Evans:

The Board of County Commissioners in Suwannee County would like to formerly object to any activity that would negatively impact the environment of our State especially within the borders of our county. We believe the ecology above the ground and the karst geology below the ground are sensitive and any proposed impacts to them must be considered with a great deal of scrutiny,

The Southeast Market Pipeline and more specifically the Sahel Trail Transmission Project are under review by your agency at this time. It is our understanding that you have jurisdiction under the Rivers & Harbors Act of 1899 and the Clean Waters Act of 1972. We respectfully request that you deny entry of this pipeline into our State and County based on the significant concerns expressed by the United States Environmental Protection Agency (EPA) in the environmental impact statement dated October 26, 2015 to the Secretary of the Federal Energy Regulatory Commission (FERC). Contained within this statement are impacts that are unresolvable in any manner short of abandonment. The pristine nature of this area should be left intact.

We feel this impact statement by the EPA is a true representation of the facts surrounding this project and are irrefutable. So in closing we stand by the EPA's interpretation of this matter and will respect within our deliberative process any further correspondence from them.

Respectfully,

Jason Bashaw
Chairman. Board of County Commissioners
Suwannee County
I believe they're referring to the EPA letter to FERC.
Thanks to Lori McCraney for getting the PDF of these documents, and thanks to Suwannee BOCC for making its board packets available before its meetings.
Don't forget: you can comment to the Corps and to FERC, too.
-jsq
You can join this fun and work by becoming a WWALS member today!
Short Link: