KMI was already trying to sell off its Palmetto petroleum products pipeline project across coastal Georgia before:
That's two strikes in Georgia, and another in South Carolina. Three strikes, KMI!
But Florida, watch out. Carl Zeigler, jacksonville.com, 27 February 2016, Palmetto Pipeline battle raging in Georgia could stop in Jacksonville next,
Political and regulatory groundwork is being laid in Northeast Florida for the proposed liquid-fuels pipeline that would travel 47 miles across Nassau and Duval counties to its terminus in Jacksonville.

The Palmetto Pipeline has attracted considerable attention in Georgia, where opponents have gathered by the hundreds, advocated through newspapers, websites and social media, even produced a film. That opposition, which has led to proposed legislation in two states and a court case that seems likely to linger, may have delayed a debate in Florida.

But members of the Jacksonville City Council have been visited by representatives of the pipeline's owners. Houston-based Kinder Morgan Energy Partners has filed preliminary documents with the Florida Department of Environmental Protection and the U.S. Army Corps of Engineers. It has hired a local lobbyist and a public relations firm. An economic impact study funded by the company has been produced by a research center at the University of North Florida. And the St. Johns Riverkeeper is working with counterparts in Georgia who oppose the $1 billion project.

"What we haven't done in Florida is identify a legal issue like they have in Georgia," said Lisa Rinaman, who is concerned about the tributaries that would be polluted by a potential spill. Rinaman said she has yet to see a detailed map of the project and is questioning regulatory authorities. She holds out hope that the pipeline's builders will be thwarted in Georgia's courts. "If they don't resolve the Georgia issue, there is no Florida issue."
KMI of course claims it's going ahead anyway without any need for eminent domain. If it could, why did it just waste all that time and money on an appeal? Nobody's going to buy your permitless pipeline now, KMI! And your stock is down 60% over the last year.
Yay Greenlaw, Riverkeepers, and Push Back the Pipeline! I took the picture below as Georgia River Network named them Watershed Group of the Year last September; here's GRN's picture and writeup.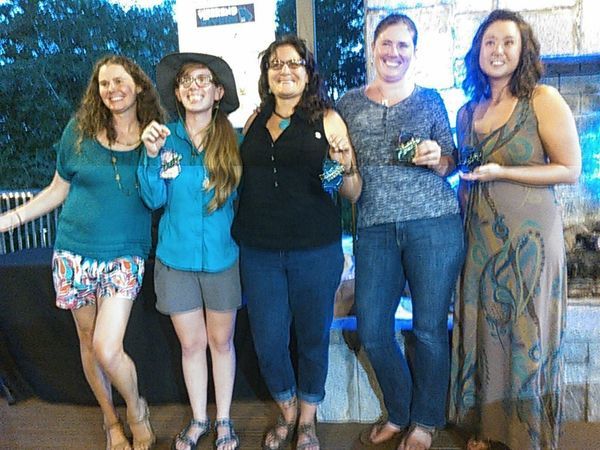 KMI go home to Houston, and take Spectra Energy and its Sabal "Sinkhole" Trail fracked methane boondoggle with you!
-jsq
You can join this fun and work by becoming a WWALS member today!
Short Link: