Tomorrow in Winter Park near Orlando, the Cooperative Coalition for Change (CCC), a new group formed by Alaina Marshall, will have its first semi-annual meeting. I'll be talking about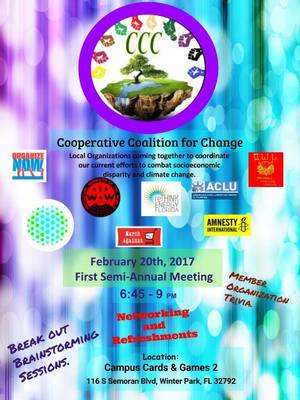 how solar power is here right now, even FPL admits Sabal Trail is not needed, and how working together about this and much bigger problems with our waters in the Floridan Aquifer, rivers, springs, and swamps is much better than everybody trying to go it alone.
When: 6:30-9PM Monday February 20, 2017
Where: 116 S Semoran Blvd, Winter Park, Florida 32792
Event: facebook
CCC member organizations, affliate organizations, and all members of the community are welcome. This is a chance to come together and discuss what we are each doing to combat socioeconomic disparity issues and the issues surrounding environmental degredation. Whether this be spearheading efforts with legislators, creating petitions, coming to events, or supporting local organizations, we can all do our part to shape our community in the direction of progress. We hope this meeting will offer each person a platform to spread their message and become more involved with current efforts. The summit topic is the Sabal Trail pipeline and efforts to stop the construction. We will be hosting a breakout session to encourage brainstorming between all attendants. Refreshments will be provided.
-jsq, John S. Quarterman, Suwannee RIVERKEEPER®
You can join this fun and work by becoming a WWALS member today!
Short Link: