A pleasant just over five mile Sunday paddle on the Suwannee River as we take a short upstream paddle to the Alapaha River Rise. Then enjoy the river's current downstream past the Alapaha River Confluence (there may be water in the Alapaha) to County Road 141 Ramp. There are a couple of springs along the way. Those still feeling energetic can paddle a few more thousand feet down to the Sabal Trail crossing and back to CR 141.

Suwannee River beach, 2015-08-15, 30.4193954, -83.1344223
Bring the usual personal flotation device, water, snacks, first aid kit, and gloves, trash bag, and gripper because every WWALS outing is also a cleanup. If you do not have a boat, ask us, or contact one of the many outfitters.
When: 9AM, Sunday, August 13, 2017
Put-In: Gibson Park Ramp, SRWT MILE 135.4, 6844 SW CR 751, Jasper, FL 32052, From Jasper, travel southwest on SW CR 249 to SW CR 751; turn left and boat ramp is on the right in Gibson Park.
Take-Out: CR 141 Ramp, aka Suwannee Campsites, SRWT MILE 130.4, 30.414, -83.159167, SW 46th Ave., Jasper, FL 32052, From US 90, turn right onto NE Myrrh Street; cross the Withlacoochee River (road becomes CR 141); turn right on SW 74 Street; turn right on SW 44 Lane; travel south to SW 77 Street; turn left and follow to boat ramp. Government Owned for General Public Use.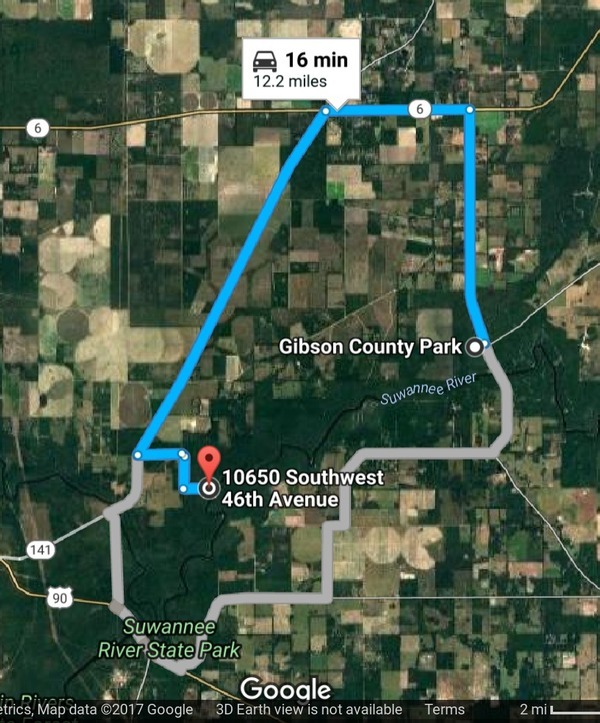 Duration: 4-5 hours
Free: This outing is Free! And we recommend you support the work of WWALS by becoming a WWALS member today!
Shuttle: 13 miles and 18 minutes each way, so allow 45 minutes for the whole shuttle.
Paddle Distance: 5.5 miles
Paddle Duration: 3-4 hours
Gage: USGS 02315628, Suwannee River at Noble's Ferry (on CR 751 aka FL 249, between Gibson Park and the Alapaha River Rise). It read 33.8 on 28 June 2017, with action stage 49 (all public boat ramps closed), flood stage 56 (roads start being flooded), and apparently empty at about 32 feet, which presumably seldom happens.
Host and Contact: Phil Hubbard
Last Time: We last did this route two years ago, 15 August 2015, when we went a bit farther down to the main Suwannee River State Park ramp.
Backup: TBD, because if the Suwannee is too low here, it's probably going to be too low anywhere.
For more outings and events as they are posted, see the WWALS calendar.
-jsq, John S. Quarterman, Suwannee RIVERKEEPER®
You can join this fun and work by becoming a WWALS member today!
Short Link: