Many of you know Julian Fields, retired forester, very knowledgable about many things around south Georgia. In this video, he's showing people where Old Coffee Road forded the Alapaha River. I haven't been able to find a map of any age that shows that ford. However, given that Old Coffee Road in Berrien County goes as far as Rowetown Church Road, I'd guess either Rowetown Church Road is where Old Coffee Road crossed the river, at Rowetown Church Cemetery, or it was somewhat upstream. Does anybody know?
Or I suppose I could just ask Julian. Here's the video:

Julian Fields leads hike to Alapaha River ferry location, Posted by W.G. Bailey 20 June 2017
Georgia Historical Society, 1960, Old Coffee Road
The Old Coffee Road, earliest vehicular and postal route of this section, running southwestward from the Ocmulgee River to the Florida Line, passed through today's Lax, Nashville, Cecil, Barwick and Thomasville. The thoroughfare was opened by direction of the State in 1823 under supervision of Gen. John Coffee and Thomas Swain. Over this pioneer route the products of the region were carried to the coast to be sold and imported goods brought back. Sections of the original route are in use today.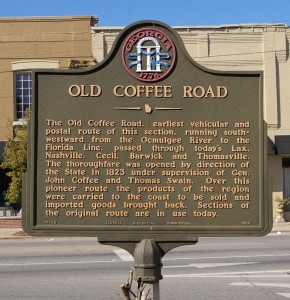 -jsq, John S. Quarterman, Suwannee RIVERKEEPER®
You can join this fun and work by becoming a WWALS member today!
Short Link: