Update 2017-08-29: Fourth news roundup: From pipelines to renewable energy and efficiency –Sierra Club 2017-08-29
"This is wind in our sails and could be the end of Sabal Trail," Quarterman said, on the front page of the newspaper of record in the largest city in the Suwannee Basin, the Valdosta Daily Times.

We got sails no one can see.
Suwannee Riverkeeper Vessel on the Suwannee River protesting Sabal Trail 2017-01-14
As Frank Jackalone says (see below), FERC has been getting away with murder. And now maybe they can't.
Thomas Lynn, Valdosta Daily Times, 23 August 2017, Court decision to impact Sabal Trail pipeline,
John Quarterman, a member of the WWALS Watershed Coalition, an organization opposed to the pipeline, said the decision will lead to FERC performing another environmental study but might also create a powerful precedent.

The precedent could mean FERC has to consider greenhouse gases for all pipeline proposals in the future. Quarterman said it could mean energy generators such as solar and wind that don't produce greenhouse gases would be more heavily favored instead of fossil fuels.

"This is wind in our sails and could be the end of Sabal Trail," Quarterman said.
As we've seen from yesterday's roundup of news stories, fossil fuel industry press and many attorneys are hailing the Major Landmark Victory of Sierra Club against Sabal Trail, which takes away the "regulatory certainty" of the FERC rubberstamp, could shut down Sabal Trail and the other two parts of the Southeast Market Pipelines Project (taking all their offshoot pipelines and LNG export operations with it), plus maybe affecting all other pipelines currently in FERC permitting, and maybe even others already permitted.
This goes far beyond bad publicity. This sudden lack of "regulatory certainty" breaks the FERC rubberstamp machine as a sure way to get eminent domain to ram through a pipeline, profiting from the externalities of taking peoples' land, gouging under their rivers and through their wetlands, risking their children in explosions, or poisoning everybody with their fossil fuels leaking and burning.
Without a captive agency such as FERC to hide all those subsidies for them, pipeline companies have no profit left.
Now if pipeline investors get spooked, that's the end of it. Not just Sabal Trail: the end of the whole pipeline boondoggle.
As the stories I posted yesterday indicate, it's not just me that thinks that: it's OilPrice.com and other industry rags, and numerous attorneys.
Will that actually happen? Nobody knows yet. But the mere possibility that it might is making seasoned pipeline executives quake in their drilling-mud-stained boots.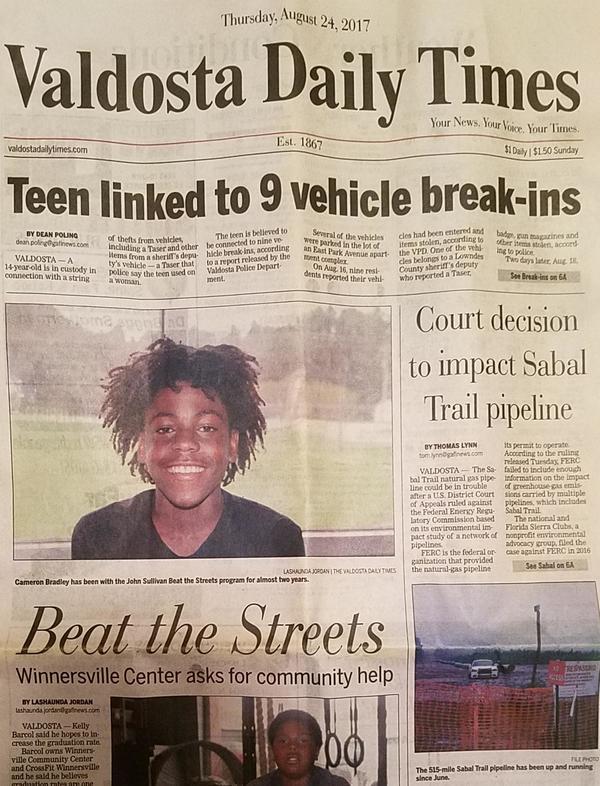 The irony of this VDT story coming one week after Sabal Trail's advertisement in the same paper: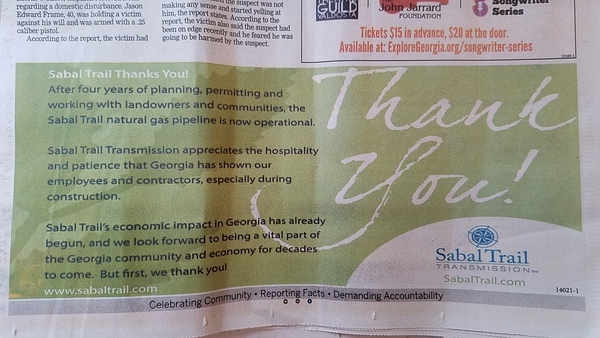 Sabal Trail advertisement, Valdosta Daily Times, August 17, 2017
You're not welcome, Sabal Trail. Go home to Houston, and take your pipe with you.
Now some more news stories. The first two are from the cities with the first two compressor station sites: Alexander City, Alabama, and Albany, Georgia.
There are things you can do to help stop FERC getting away with murder. Stay tuned for still more things. Meanwhile, spread the news: fossil fuels are running scared because the ink don't dry on the FERC rubberstamp no more.
-jsq, John S. Quarterman, Suwannee RIVERKEEPER®
You can join this fun and work by becoming a WWALS member today!
Short Link: