Back for a second year at Spirit of the Suwannee Music Park, WWALS at Suwannee River Roots Revival, this time with the Suwannee Riverkeeper banner, Way Down Upon the Suwannee River at Spirit of the Suwannee Music Park (SoSMP). We can always use help at the booth, so contact us if you want to help talk to people about paddle outings, water trails, sewage spills, fertilizer runoff, coal ash, phosphate mines, pipelines, holding polluters accountable, and fishable, swimmable drinkable waters throughout the Suwannee River Basin.
When: Thursday through Sunday, October 12-15, 2017
Where: Spirit of the Suwannee Music Park, Live Oak, Florida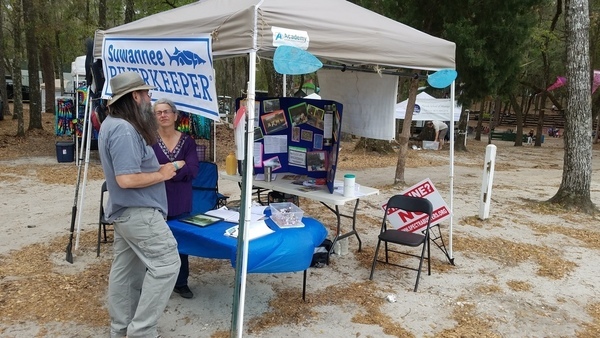 Questions and the Suwannee Riverkeeper banner at Suwannee Spring Revival 2017-03-23.
Last year was the first time WWALS had a booth at a SoSMP event, and was the first year for the Roots Revival. It's true most of the attendees saw it as a continuation of Magnolia Fest.
New bands this year:
Mother's Finest,
Chatham County Line,
The Revelers,
The Lee Boys,
Richie & Rosie,
Katie Skene,
LPT,
The Walker Family Band,
The Dunehoppers.
The lineup:
Come on way down to the Suwannee River this fall!
-jsq, John S. Quarterman, Suwannee RIVERKEEPER®
You can join this fun and work by becoming a WWALS member today!
Short Link: