I've wondered whatever happened to Andrea Grover since she no longer has landowner "stakeholders" to try to sell on her pipeline.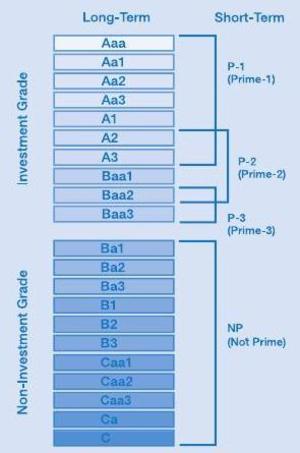 Turns out she's selling debt bonds for Sabal Trail now, according to a press release of Monday.
The notes were issued in three tranches as follows (collectively, the "Notes"): $500 million principal amount of 4.246% senior notes due 2028, $600 million principal amount of 4.682% senior notes due 2038, and $400 million principal amount of 4.832% senior notes due 2048.
Those sound like good interest rates, especially that 4.832%. But why is it listed on the Berlin Stock Exchange, and what about that Baa1 Moody's bond rating? That is eight steps from the top and three steps above "Non-Investment Grade" aka junk bonds.
I wonder what happens if Sabal Trail doesn't make its FERC-extended construction deadlines? Somebody remind me, what assets does Sabal Trail Transmission, LLC have, as in what recourse would a bond-holder have if the issuer decided to cancel them?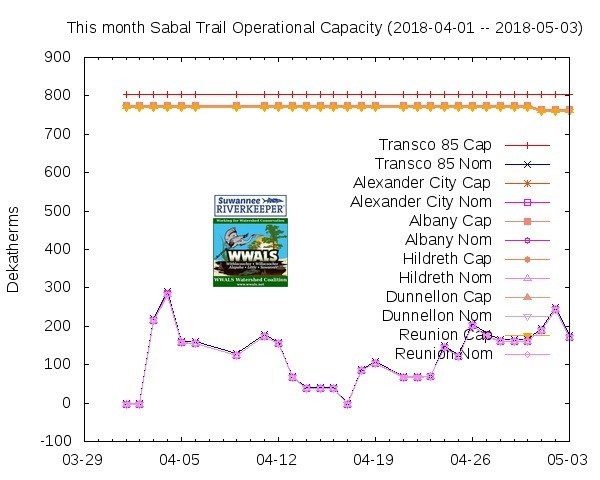 Graph: by WWALS, from Sabal Trail's FERC-required Informational Postings.
Or maybe, unlike the amount of gas Sabal Trail is pumping (see above graph), SEP's stock price will stop dropping and rally. Post Analyst, May 3, 2018, Stocks With Unfavorable Valuation Metrics: Etsy, Inc. (ETSY), Spectra Energy Partners, LP (SEP), "Spectra Energy Partners, LP Target Levels":
The market experts are predicting a 71.79% rally, based on the high target price ($57) for Spectra Energy Partners, LP shares that is likely to be hit in the 52 weeks. Analysts anticipate that traders could see stock price minimum in the $32 range (lowest target price). If faced, it would be a -3.56% drop from its current position. Overall, the share price is down -16.08% year to date.
Sure, that could happen. Maybe if there's a sudden worldwide surge in demand for LNG, despite most countries moving rapidly to sun and wind power. Do investors want to bet on an SEP stock price rally by buying these bonds?
In the Forward-Looking Statements, "Factors that could cause actual results to differ materially from those indicated in any forward-looking statement include" litigation (could this be why Sabal Trail is appealing the D.C. Circuit Court case to the Supreme Court?), weather (in Florida? Heaven forbid!), other natural phenomena (like sinkholes?), "changes in environmental, safety and other laws and regulations; the development of alternative energy resources" (those all seem like good ideas). And my favorite:
Results and costs of financing efforts, including the ability to obtain financing on favorable terms, which can be affected by various factors, including… the timing and success of efforts to develop U.S. and Canadian pipeline, storage, gathering, processing and other related infrastructure projects and the effects of competition; the performance of natural gas and oil transmission and storage, distribution, and gathering and processing facilities; the extent of success in connecting natural gas and oil supplies to gathering, processing and transmission systems and in connecting to expanding gas and oil markets….
Expanding gas markets like LNG Export such as Strom Inc.'s Crystal River container LNG operation, owned by a German company? Yet even that one aims to export to the Caribbean, not to Germany. What if the sunny island nations wise up and go solar? You know, like Tesla is demonstrating in Puerto Rico?
Regarding performance, Sabal Trail still can't keep the gas flowing. Somebody remind me again: how can Sabal Trail be needed by Florida when it often doesn't even pump gas to Florida?

This year (2018-01-01 — 2018-05-03), STT Graphs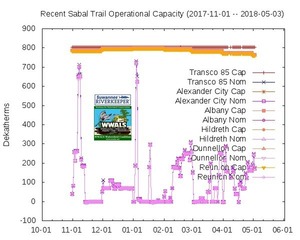 Recent (2017-11-01 — 2018-05-03), STT Graphs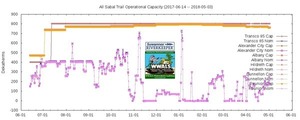 All (2017-06-14 — 2018-05-03), STT Graphs
Just like in a recent earnings report, even in this debt offering for a dirty pipeline, NextEra brags about being "the world's largest operator of renewable energy from the wind and sun." How about focus on solar and wind power, NextEra (and FPL), and stop wasting your ratepayers dollars on stranded investments like pipelines?
-jsq, John S. Quarterman, Suwannee RIVERKEEPER®
You can join this fun and work by becoming a WWALS member today!
Spectra Energy Partners, Newswire, 30 April 2018, Sabal Trail Transmission, LLC Announces Pricing of $1.5 Billion Debt Offering
HOUSTON, April 30, 2018 /PRNewswire/—Sabal Trail Transmission, LLC ("Sabal Trail") announced today the closing of its $1.5 billion offering (the "Offering") of senior notes.

Sabal Trail is a joint venture comprised of Spectra Energy Partners, LP (NYSE: SEP) owning 50%, NextEra Energy, Inc. owning 42.5% and Duke Energy owning 7.5% (collectively the "Owners"). Sabal Trail is an approximately 517-mile interstate natural gas pipeline that will have the capacity to deliver approximately 1.1 billion cubic feet per day to the Southeast U.S., including firm transportation to meet the power generation needs of Florida Power & Light and Duke Energy of Florida, once approved future compression expansions occur.

The notes were issued in three tranches as follows (collectively, the "Notes"): $500 million principal amount of 4.246% senior notes due 2028, $600 million principal amount of 4.682% senior notes due 2038, and $400 million principal amount of 4.832% senior notes due 2048.

Sabal Trail intends to use the net proceeds from the Offering to make proportional distributions to the Owners with respect to construction and development costs previously incurred by the Owners.

The Notes were offered and sold only to qualified institutional buyers in accordance with the exemption from registration provided by Rule 144A under the Securities Act of 1933, as amended (the "Securities Act"). The Notes have not been registered under the Securities Act or applicable state securities laws. The Notes may not be offered or sold in the United States absent registration or an applicable exemption from such registration requirements.

This press release is for informational purposes only and does not constitute an offer to sell or a solicitation of an offer to buy the Notes described in this press release, nor shall there be any sale of the Notes in any state or jurisdiction in which such an offer, sale or solicitation would be unlawful prior to registration or qualification under the securities laws of such state or jurisdiction.

For more information on Sabal Trail, visit www.sabaltrail.com.

This release includes "forward-looking statements" within the meaning of Section 27A of the Securities Act of 1933 and Section 21E of the Securities Exchange Act of 1934. Forward-looking statements are based on our beliefs and assumptions. These forward-looking statements are identified by terms and phrases such as: anticipate, believe, intend, estimate, expect, continue, should, could, may, plan, project, predict, will, potential, forecast, and similar expressions. Forward-looking statements involve risks and uncertainties that may cause actual results to be materially different from the results predicted. Factors that could cause actual results to differ materially from those indicated in any forward-looking statement include, but are not limited to: state, federal and foreign legislative and regulatory initiatives that affect cost and investment recovery, have an effect on rate structure, and affect the speed at and degree to which competition enters the natural gas and oil industries; outcomes of litigation and regulatory investigations, proceedings or inquiries; weather and other natural phenomena, including the economic, operational and other effects of hurricanes and storms; the timing and extent of changes in commodity prices, interest rates and foreign currency exchange rates; general economic conditions, including the risk of a prolonged economic slowdown or decline, or the risk of delay in a recovery, which can affect the long-term demand for natural gas and oil and related services; potential effects arising from terrorist attacks and any consequential or other hostilities; changes in environmental, safety and other laws and regulations; the development of alternative energy resources; results and costs of financing efforts, including the ability to obtain financing on favorable terms, which can be affected by various factors, including credit ratings and general market and economic conditions; increases in the cost of goods and services required to complete capital projects; declines in the market prices of equity and debt securities and resulting funding requirements for defined benefit pension plans; growth in opportunities, including the timing and success of efforts to develop U.S. and Canadian pipeline, storage, gathering, processing and other related infrastructure projects and the effects of competition; the performance of natural gas and oil transmission and storage, distribution, and gathering and processing facilities; the extent of success in connecting natural gas and oil supplies to gathering, processing and transmission systems and in connecting to expanding gas and oil markets; the effects of accounting pronouncements issued periodically by accounting standard-setting bodies; conditions of the capital markets during the periods covered by forward-looking statements; and the ability to successfully complete merger, acquisition or divestiture plans; regulatory or other limitations imposed as a result of a merger, acquisition or divestiture; and the success of the business following a merger, acquisition or divestiture. These factors, as well as additional factors that could affect our forward-looking statements, are described under the headings "Risk Factors" and "Cautionary Statement Regarding Forward-Looking Information" in our 2017 Form 10-K, filed on February 15, 2018, and in our other filings made with the Securities and Exchange Commission (SEC), which are available via the SEC's website at www.sec.gov. In light of these risks, uncertainties and assumptions, the events described in the forward-looking statements might not occur or might occur to a different extent or at a different time than we have described. All forward-looking statements in this release are made as of the date hereof and we undertake no obligation to publicly update or revise any forward-looking statements, whether as a result of new information, future events or otherwise.

Spectra Energy Partners

Spectra Energy Partners, LP is one of the largest pipeline master limited partnerships in the United States and connects growing supply areas to high-demand markets for natural gas and crude oil. These assets include more than 16,000 miles of transmission pipelines, approximately 170 billion cubic feet of natural gas storage, and approximately 5.6 million barrels of crude oil storage. Spectra Energy Partners, LP is traded on the New York Stock Exchange under the symbol SEP; information about the company is available on its website at www.spectraenergypartners.com.

NextEra Energy, Inc. (NYSE: NEE) is a leading clean energy company with consolidated revenues of approximately $17.2 billion, operates approximately 46,790 megawatts of net generating capacity and employs approximately 14,000 people in 33 states and Canada as of year-end 2017. Headquartered in Juno Beach, Florida, NextEra Energy's principal subsidiaries are Florida Power & Light Company, which serves approximately 5 million customer accounts in Florida and is one of the largest rate-regulated electric utilities in the United States, and NextEra Energy Resources, LLC, which, together with its affiliated entities, is the world's largest operator of renewable energy from the wind and sun. Through its subsidiaries, NextEra Energy generates clean, emissions-free electricity from eight commercial nuclear power units in Florida, New Hampshire, Iowa and Wisconsin. A Fortune 200 company and included in the S&P 100 index, NextEra Energy has been recognized often by third parties for its efforts in sustainability, corporate responsibility, ethics and compliance, and diversity, and has been ranked No. 1 in the electric and gas utilities industry in Fortune's 2018 list of "World's Most Admired Companies." For more information about NextEra Energy companies, visit these websites: www.NextEraEnergy.com, www.FPL.com, www.NextEraEnergyResources.com.

Duke Energy

Headquartered in Charlotte, N.C., Duke Energy is one of the largest energy holding companies in the United States. Its Electric Utilities and Infrastructure business unit serves approximately 7.5 million customers located in six states in the Southeast and Midwest. The company's Gas Utilities and Infrastructure business unit distributes natural gas to approximately 1.6 million customers in the Carolinas, Ohio, Kentucky and Tennessee. Its Commercial Renewables business unit operates a growing renewable energy portfolio across the United States.

Duke Energy is a Fortune 125 company traded on the New York Stock Exchange under the symbol DUK. More information about the company is available at duke-energy.com.

The Duke Energy News Center serves as a multimedia resource for journalists and features news releases, helpful links, photos and videos. Hosted by Duke Energy, illumination is an online destination for stories about people, innovations, and community and environmental topics. It also offers glimpses into the past and insights into the future of energy.

Follow Duke Energy on Twitter, LinkedIn, Instagram and Facebook.

Andrea Grover
(888) 215-6683 (Sabal Trail media line)
andrea.grover@enbridge.com

Analysts & Investors:

Roni Cappadonna
(713) 627-4778
investor.relations@enbridge.com

SOURCE Spectra Energy Partners, LP

Related Links www.spectraenergypartners.com
Short Link: