Almost like being there, and it mentions WWALS! Jason Nail, NailTravels, 26 April 2018, Wanee Festival '18: It's Time To Panic,
As we move ever close to the environmental consciousness of festivals like Telluride and Rockygrass, we're starting to see more advocacy groups devoting their time to Wanee. WWALS is a nonprofit educational corporation advocating for watershed conservation and stewardship of the Withlacoochee, Willacoochee, Alapaha, Little and Suwannee Rivers. Mad props to WWALS Watershed Coalition, Inc. for their work with the Alapaha River Water Trail and the First Annual Suwannee Riverkeeper Songwriting Contest. These are perfect reasons to get involved. Visit their website for upcoming outings and events or email them at wwalswatershed@gmail.com and contact@suwanneeriverkeeper.org.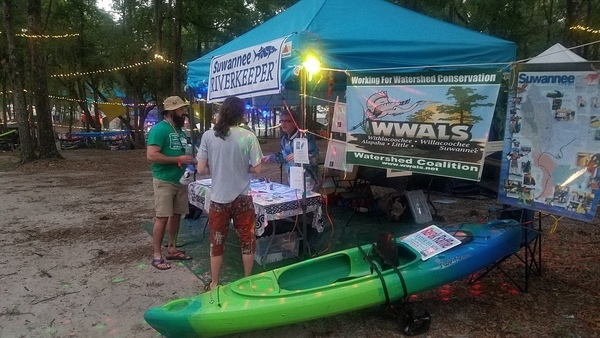 Photo: John S. Quarterman for WWALS at Wanee April 18, 2018.
-jsq, John S. Quarterman, Suwannee RIVERKEEPER®
You can join this fun and work by becoming a WWALS member today!
Short Link: