E.D. Gretchen Quarterman delivered the first complete WWALS water quality test kit to Water Quality Testing Committee Chair Bobby McKenzie at the WWALS Quarterly Board Meeting Sunday. Now we are waiting for delivery of analysis materials, which should all arrive any day. Then we will start water quality testing in Georgia.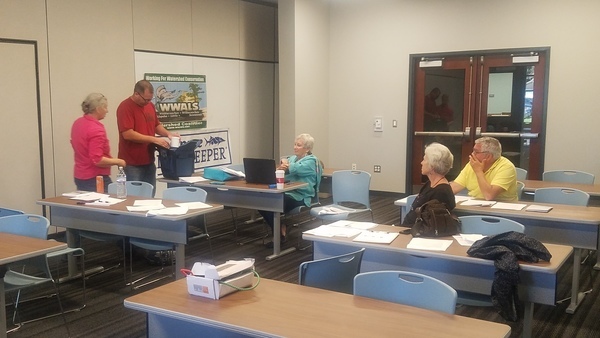 Photo: John S. Quarterman, L-R: Gretchen Quarterman, Bobby McKenzie, Carolyn Selby (WWALS Member), Shirley Kokidko, Ronnie Thomas; on the phone: Bret Wagenhorst (in Tifton), Eileen Box (in Live Oak), WWALS Quarterly Board Meeting 2018-10-21.
We haven't forgotten about Florida, and we will be doing Florida training soon. We're just starting with the biggest problem area.
Also on order is a second test kit, the rest of whose parts should finish arriving soon. WWALS paid for these first two kits out of funds from memberships.
We are applying for grants to buy more kits. Suggestions for more places to apply are welcome.
Your donations to WWALS help with this and other WWALS programs.
For much more about why we need to test, see Valdosta (and other) Wastewater.
-jsq, John S. Quarterman, Suwannee RIVERKEEPER®
You can join this fun and work by becoming a WWALS member today!
Short Link: