Yesterday I left a message for Lowndes County Utilities asking if they had any spills. They never called back. But they did report to GA-EPD 35,000 gallons of raw sewage spilled from Madison Highway near exit 11. I hear they sent out a press release which said it was into Bevel Creek, which flows into the Withlacoochee River near the Georgia-Florida state line.


Quitman, Lowndes County, and Valdosta spills, December 2-3, 2018, as reported to GA-EPD Atlanta. See also the raw data.
Just now I received this from Lowndes County:
Public Notice
December 4, 2017

The Lowndes County Utility Department experienced a sanitary sewage spill on December 3, 2018 on Madison Highway at exit 11 near I-75. Untreated sewage entered into a drainage ditch that flows to Bevel Creek. It has been estimated that approximately 35,000 gallons of untreated sewage entered into the ditch during the event and the duration of the spill lasted approximately six hours. The spill was caused due to excessive rainfall. The County is monitoring this situation and is performing all reporting requirements as required by the Georgia Environmental Protection Division and the County's NPDES Permit. Anyone having questions or comments may contact The Lowndes County Utilities Department at 229-671-2500.
Also, in addition to the WWTP spill Valdosta told the public about, they had 13 other spills, most, like that WWTP spill, still ongoing. Merely the total raw sewage spilled from the ones they have stopped totals 126,500 gallons.
These Suwannee River Basin spills from Quitman, Lowndes County, and Valdosta were not the only spills in this time period: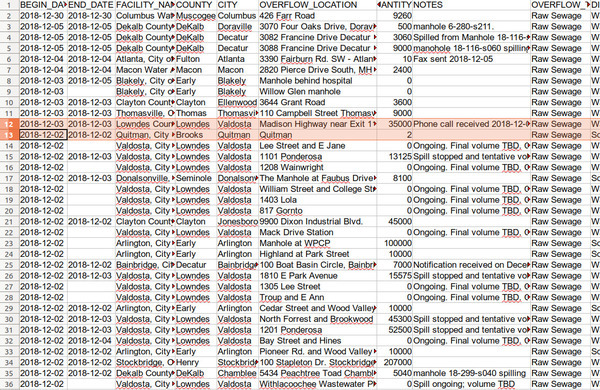 All spills, December 2-3, 2018, as reported to GA-EPD Atlanta. See also the raw data.
However, Valdosta's spills alone were at more than a third of all reported locations, and those preliminary Valdosta raw sewage gallons add up to more than almost every other report.
This afternoon I am being interviewed by WCTV. News at 6 and 11PM.
Your organization can still sign the request for GA-EPD to publish online all spill reports the same day they get them.
Meanwhile, it's a good thing Valdosta City Council has three sewer system improvement items on its agenda tonight: generators for lift stations, SCADA communications system, and testing chemicals. But nothing about any of these spills, not even the only one they announced, the ongoing WWTP spill. Maybe you'd like to come ask them in Citizens to Be Heard, 5:30 PM tonight, Thursday, December 6, 2018, at Valdosta City Hall, 216 East Central Avenue, Valdosta, Georgia.
-jsq, John S. Quarterman, Suwannee RIVERKEEPER®
You can join this fun and work by becoming a WWALS member today!
Short Link: