Tifton spilled at three locations, adding up to 105,100 gallons of raw sewage into the Little River watershed from the Agrirama Lift Station and from TC Gordon Road, and into the New River watershed at 26th St. & Ridge Ave., upstream from the Withlacoochee River.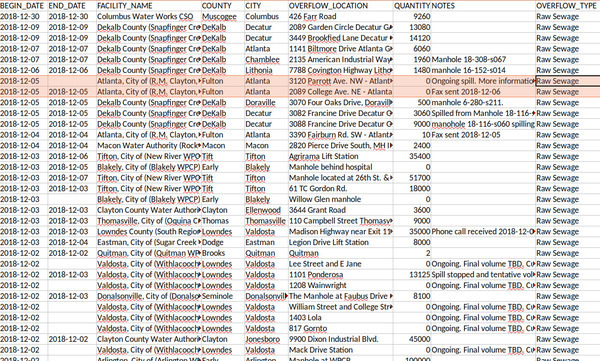 GA-EPD data through Sunday, 9 December 2018; see also raw data obtained by WWALS via GORA request.
Thomasville spilled 9,000 gallons into the Ochlockonee River watershed. Macon spilled 2,400 gallons into the Ocmulgee River watershed. Columbus spilled 9,260 gallons into the Chattahoochee River watershed, although exactly when seems hard to determine.
The big winners were Atlanta, still ongoing, and Dekalb County, with a total of 42,260 gallons of raw sewage.
Valdosta, Lowndes County, and Quitman reported no new spills, although many of Valdosta's spills are still listed as ongoing.
Prominently missing is Albany, Georgia, which reported two major spills to the news media of more than a million gallons, plus plus excuses for why they were "unavoidable". Yet Albany apparently did not report anything to GA-EPD.
Your organization can still sign on to ask GA-EPD to publish this spreadsheet daily on their own GA-EPD website. That would help people detect missing reports like this.
-jsq, John S. Quarterman, Suwannee RIVERKEEPER®
You can join this fun and work by becoming a WWALS member today!
Short Link: