Who in Georgia spilled how much sewage where and when? For example, SRWMD board members wanted to know how does Valdosta compare to the rest of Georgia? So that everyone can see, here are all the sewage spills reported to GA-EPD for the calendar years 2015, 2016, 2017, and 2018.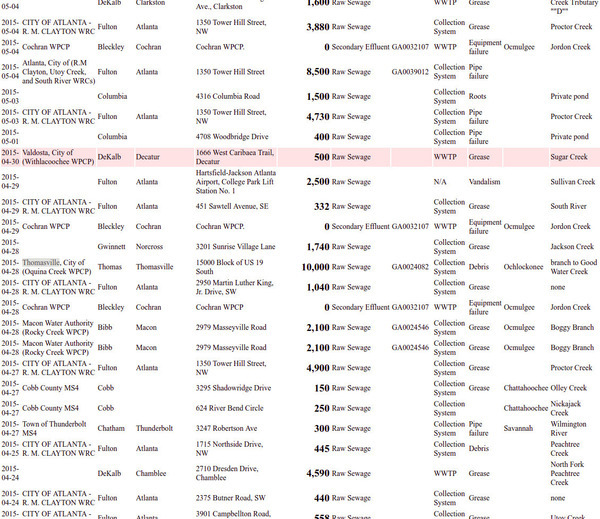 Atlanta, Valdosta, Thomasville, Macon, Thunderbolt, and others spilled in late April and early May, 2015.
Depicted here is an excerpt, since all 4,577 rows would be a bit much to show. Follow the link for the entire HTML table.
Valdosta happens to show only a small spill in this excerpt. Or does it? Since when is Valdosta in DeKalb County? It appears GA-EPD confused some Sugar Creek in Decatur with the Sugar Creek in Valdosta. This is an example of why I have not attempted totals, because until recently GA-EPD was somewhat inconsistent in naming conventions.
If someone wants further analysis, or current updates of this table, WWALS is all ears for donations.
Or maybe you'd like to help with Water Quality Testing.
For further context, see wwals.net/issues/vww/ga-spills.
-jsq, John S. Quarterman, Suwannee RIVERKEEPER®
You can join this fun and work by becoming a WWALS member today!
Short Link: