Update 2019-07-10: Tickets, Georgia Beer Company sponsors, judges selected, and headliners will perform. Everything about the contest is online here: wwals.net/pictures/2019-08-24–suwannee-riverkeeper-songwriting-contest/
Update 2019-04-01: Song submissions are open!
FOR IMMEDIATE RELEASE
Hahira, Georgia, February 27, 2019 — WWALS is pleased to announce the M.C. for the Second Annual Suwannee Riverkeeper Songwriting Contest will be well-known radio host Chris Beckham. Once again, the Contest will be at The Salty Snapper on Gornto Road in Valdosta, Georgia. This year it will be 1-5PM, Saturday, August 24, 2019. Submissions will open in April, for selection of half a dozen finalists by the Contest Committee, and judging of the finalists by three judges at the Contest.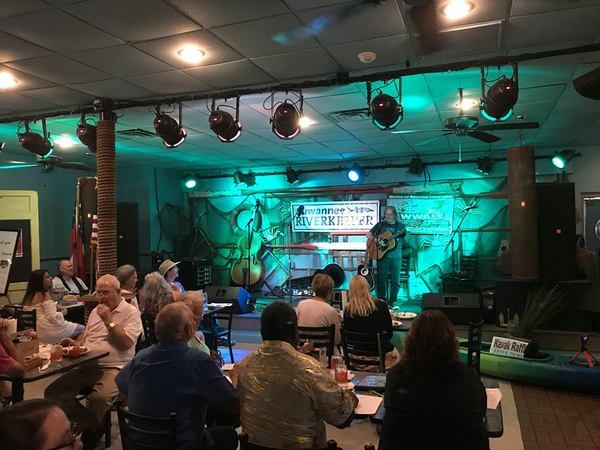 Emmett Carlisle performing at the 2018 Contest.
"August is an excellent month for this Contest, because we have inside air conditioning, and there are no competing outdoor music events in August," said Laura D'Alisera, last year's winner, and this year a member of the Contest Committee.
"The Salty Snapper is great for music: cozy but lots of space. Thanks to manager Justin Stephens for his enthusiastic support," said Scotti Jay, Chair of the WWALS Suwannee Riverkeeper Songwriting Contest Committee.
"Everybody had a fine time last year, and we have six more songs about the Suwannee River, or its tributaries the Withlacoochee, Little, and Alapaha. Move over Stephen C. Foster!" said Suwannee Riverkeeper John S. Quarterman.
Submissions can be songs about any river, stream, spring, sink, swamp, lake, or pond in the Suwannee River Basin or Estuary (except not the Santa Fe Basin; that has its own contest). Judging of finalists will take into account integrity and value of the waters, historical value, originality of lyrics and music and musical consistency between them, performance, and clarity of message. Extra credit for naming the most rivers (springs, etc.). Even listing them counts; tying them together in a way that shows their value is better.
About Chris Beckham: Chris is currently the host of High School Football Report, Mondays, 6-7 PM, on WVGA, Newstalk 105.9. Previously, for many years he hosted a morning drive-time radio show on the same channel. Suwannee Riverkeeper John S. Quarterman appeared on that show many a time.

John S. Quarterman on Chris Beckham drive-time radio show 2016-01-15.
About WWALS: Founded in June 2012, WWALS Watershed Coalition, Inc. (WWALS) advocates for conservation and stewardship of the Withlacoochee, Willacoochee, Alapaha, Little, and Suwannee River watersheds in south Georgia and north Florida through education, awareness, environmental monitoring, and citizen activities. John S. Quarterman is the Suwannee Riverkeeper®, which is a staff position and a project of WWALS as the Member of Waterkeeper® Alliance for the Suwannee River Basin.
Contact: John S. Quarterman, Suwannee Riverkeeper
WWALS Watershed Coalition
song@suwanneeriverkeeper.org
850-290-2350
229-242-0102
PO Box 88, Hahira, GA 31632
===
Short Link: