Update 2019-05-22: Moved by the Outings Committee to Allen Ramp on the Withlacoochee River to Suwannee River State Park.
This is a 12 mile paddle on the Suwannee River. We will meet at Deese-Howard Public Boat Ramp at 8:30 to unload kayaks and gear before the 12 mile shuttle to Gibson County Park begins at 9 a.m. You will probably need to use the Lat/Long coordinates with your GPS to find the ramp easier.
We will pass Holton Creek River Camp, where we will stop for a break and a swim.
Just before the takeout this section of the river also includes the Alapaha Rise, an interesting natural feature that is worth the short side trip.
When: Gather 8:30 AM, Launch 10AM, Saturday, June 1, 2019
Put In: Deese Howard Boat Ramp, 107th Road, Live Oak, FL 32060, Suwannee County.
GPS: 30.41439, -82.96292
Take Out: Gibson Park Ramp, 6844 SW CR 751, Jasper, FL 32052. From Jasper, Hamilton County, FL, travel southwest on SW CR 249 to SW CR 751; turn left and boat ramp is on the right in Gibson County Park, in Hamilton County.
Bring: the usual personal flotation device, boat paddles, food, drinking water, warm clothes, and first aid kit. Also trash pickers and trash bags: every WWALS outing is also a cleanup.
Free: This outing is free to WWALS members, and $10 (ten dollars) for non-members. We recommend you support the work of WWALS by becoming a WWALS member today!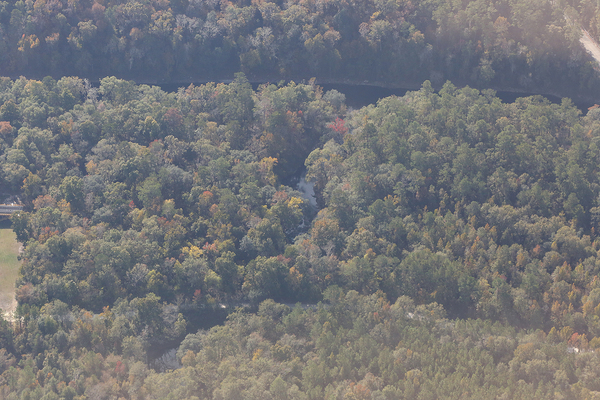 Photo: Beth Gammie, of Alapaha River Rise, on Southwings flight for WWALS with pilot E.M. Beck, 2016-11-23.
Duration: 7 hours
Shuttle distance: 24 miles round trip
Shuttle duration: 40 minutes
Paddle distance: 12 miles
Paddle duration: 6 hours
Gauge: White Springs
Host: Shirley Kokidko
Contact: Shirley Kokidko
Backup: in case of high or low water is: Nankin Ramp to State Line Ramp
More: For more WWALS outings and events as they are posted, see the WWALS calendar or the WWALS outings and events web page. WWALS members also get an upcoming list in the Tannin Times newsletter.
-jsq, John S. Quarterman, Suwannee RIVERKEEPER®
You can join this fun and work by becoming a WWALS member today!
Short Link: