Come on over to Live Oak this Sunday to help organize the Second Annual Suwannee Riverkeeper Songwriting Contest! Thanks again to radio host Chris Beckham for agreeing to M.C. the Contest, which will be August 24, 2019, at The Salty Snapper in Valdosta, with submissions opening the first of April.
When: 6PM, Sunday, March 24, 2019
Where: Sakura Japanese Sushi and Grill, 1548 Ohio Avenue South, Live Oak, FL 32064-4514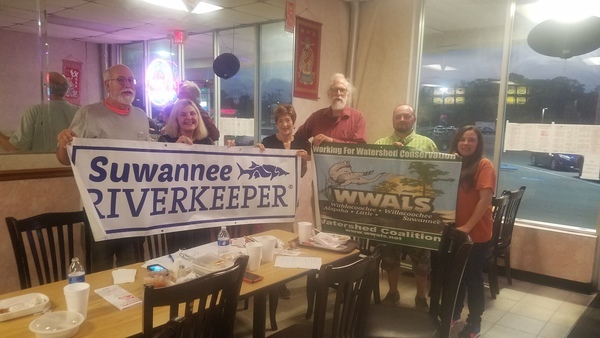 Tom H. Johnson Jr., Laura D'Alisera, Eileen Box, John S. Quarterman, Scotti Jay, Sara Jay; Photo: Mary Catherine Pindar, 2019-02-17
We made quite a bit of progress at last month's meeting, including setting the date of the Contest, and we put out a press release.
Now we need to Continue reading →