Update 2019-04-19: Rescheduled to Saturday due to weather.
A leisurely sunset paddle to watch the sun set and the full moon rise over the Banks Lake, a mini-Okefenokee near Lakeland, Georgia.
When: Gather 7:00 PM, launch 7:30 PM, Friday, April 19, 2019
Put In: Banks Lake Boat Ramp, 307 Georgia 122, Lakeland, GA 31635, in Lanier County.
Take Out: Banks Lake Boat Ramp
Bring: the a light for your boat or some type of light to have on yourself (glow stick, head lamp, or flashlight), and bring a rope for your boat. You must wear a Personal Flotation Device (PFD). A whistle is not required, but it's a good idea in the dark. Dress for cold weather, the temperature drops quickly after the sun sets. Also trash pickers and trash bags: every WWALS outing is also a cleanup.
Free: This outing is free to WWALS members, and $10 (ten dollars) for non-members. We recommend you support the work of WWALS by becoming a WWALS member today!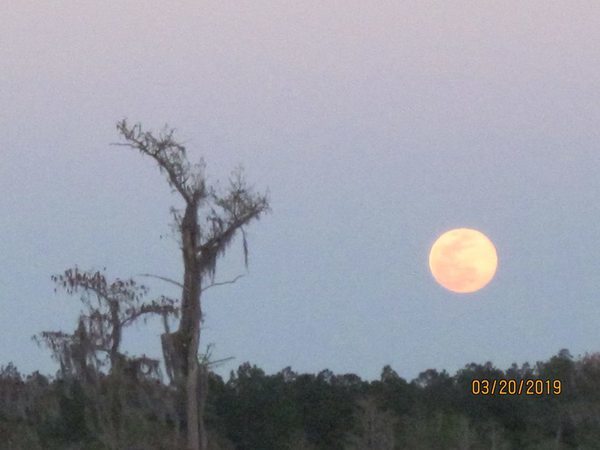 Photo: Shirley Kokidko, Banks Lake Spring Equinox Full Moon Paddle, 2019-03-20.
Continue reading