Update 2019-04-18: Due to low water, changed to Cypress Creek South (CR 6) to Cone Bridge, Suwannee River, still May 4, 2019.
This 15.6 mile paddle includes a strenuous portage around Big Shoals, the biggest whitewater rapids in Florida and paddling over a smaller set of rapids at Little Shoals. Due to the portage which involves climbing up and down steep, sandy banks with kayaks, carrying kayaks 300 feet and lifting over downed trees, this trip is listed as difficult. You must be physically able to get back into your kayak on the slippery edge of this swift moving section of the Suwannee River. We help each other as much as possible, but ultimately you are responsible for your boat. We will take a break at the shoals and enjoy the outstanding view. No one is paddling over the shoals and this portage is the only way around.
When: Gather 8:30 AM, Launch 10 AM, Thursday, May 4, 2019
Put In: Cone Bridge Ramp, From Lake City, travel north on US 441 to NW Cone Bridge Road; turn left and follow road to ramp in Columbia County.
Take Out: Suwannee Wayside Ramp, From White Springs, travel south on US 41 to the river; the ramp is on the south side in the town park. Hamilton County.
Bring: a rope to drag your boat, the usual personal flotation device, boat paddles, food, drinking water, warm clothes, and first aid kit.
Also trash pickers and trash bags: every WWALS outing is also a cleanup.
Free: This outing is free to WWALS members, and $10 (ten dollars) for non-members. We recommend you support the work of WWALS by becoming a WWALS member today!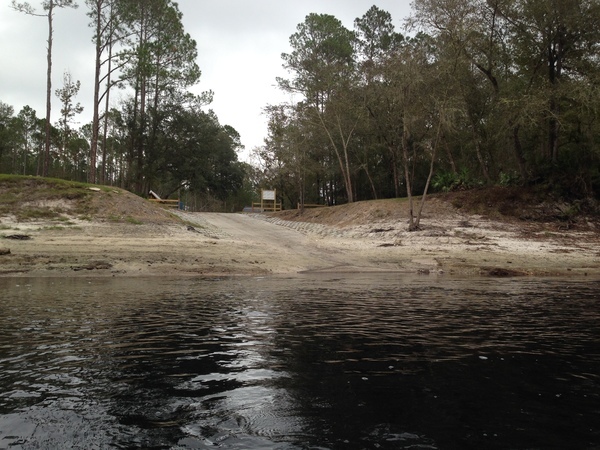 Photo: Gretchen Quarterman, Cone Bridge Boat Ramp, 2015-11-22
This paddle is on the Suwannee River Wilderness Trail (SRWT).
Duration: 8 hours
Shuttle distance: 38.2 miles round trip
Shuttle duration: 50 minutes
Paddle distance: 15.6 miles
Paddle duration: 7 hours
Gauge: White Springs
Host: Shirley Kokidko
Contact: Shirley Kokidko
Backup: in case of high or low water is: Nankin Ramp to State Line Ramp on the Withlacoochee River.
More: For more WWALS outings and events as they are posted, see the WWALS calendar or the WWALS outings and events web page. WWALS members also get an upcoming list in the Tannin Times newsletter.
-jsq, John S. Quarterman, Suwannee RIVERKEEPER®
You can join this fun and work by becoming a WWALS member today!
Short Link: