Rescheduled due to low water. Now we're starting at Cypress Creek Launch on CR 6, and paddling to Cone Bridge Ramp.
A quiet, tranquil 9.4 mile section of the Suwannee River on a paddle appropriate for paddlers of any level.
When: Gather 9:00 AM, Launch 9:30 AM, Saturday, May 4, 2019
Put In: Cypress Creek South Launch @ CR 6. From White Springs, Travel north on CR 135 to SR 6, turn right; travel east to the bridge. At the foot of the bridge, turn left onto road shoulder and follow the road to the river.
From Valdosta, GA, travel south on I-75 to exit 460 for FL-6 toward Jasper, FL; travel east 11.4 miles, turn right to stay on FL 6. Continue through Jasper onto Hatley Street, which becomes CR 6. Continue 14.5 miles to the left turnoff just before the Suwannee River.
GPS: 30.50737, -82.71711
Take Out: Cone Bridge Ramp. From Lake City, travel north on US 441 to NW Cone Bridge Road; turn left and follow road to ramp.
Bring: a rope to drag your boat, the usual personal flotation device, boat paddles, food, drinking water, warm clothes, and first aid kit.
Also trash pickers and trash bags: every WWALS outing is also a cleanup.
Free: This outing is free to WWALS members, and $10 (ten dollars) for non-members. We recommend you support the work of WWALS by becoming a WWALS member today!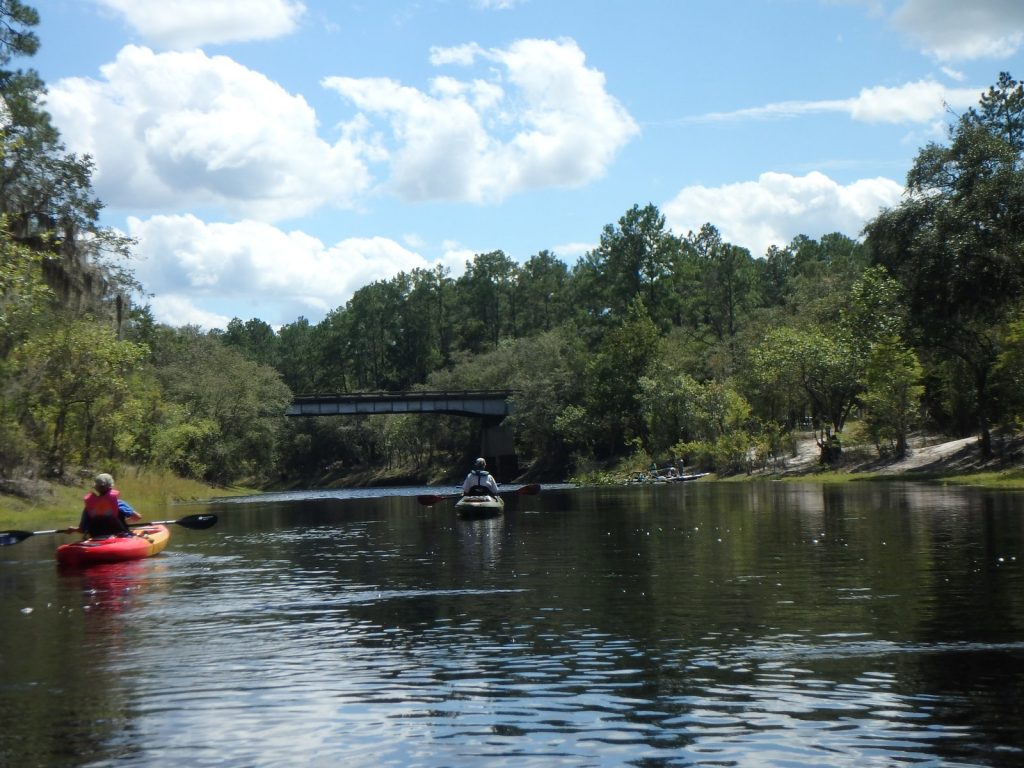 Photo: John S. Quarterman, Cypress Creek South Launch, 2016-09-05.
This paddle is on the Suwannee River Wilderness Trail (SRWT).
Duration: 6 hours
Shuttle distance: 17.8 miles round trip
Shuttle duration: 30 minutes
Paddle distance: 9.4 miles
Paddle duration: 5 hours
Gauge: White Springs. Low stage 50.7 feet NAVD88.
Host: Shirley Kokidko
Contact: Shirley Kokidko
Curiously, Cypress Creek South does not appear on either of the two maps of the Suwannee River Wilderness Trail, but it is on Suwannee River Water Management District's map of Turner Bridge, Roline, Cypress Creek South:
It is also on our own WWALS interactive SRWT map and Access points.
Backup: in case of high or low water is: Nankin Ramp to State Line Ramp on the Withlacoochee River.
More: For more WWALS outings and events as they are posted, see the WWALS calendar or the WWALS outings and events web page. WWALS members also get an upcoming list in the Tannin Times newsletter.
-jsq, John S. Quarterman, Suwannee RIVERKEEPER®
You can join this fun and work by becoming a WWALS member today!
Short Link: