At 4.32 million gallons per day (mgd) monthly average, Twin Pines proposes to withdraw more Floridan Aquifer water than almost anything in the surrounding six southeast Georgia counties: 4.32 times the City of Folkston, and almost four times the notorious Nestlé withdrawal request for Ginnie Springs on the Santa Fe River in Florida. You can still comment to the U.S. Army Corps of Engineers about the TPM mining application. Or to GA-EPD about this water withdrawal permit.

4.32 mgd, 1.44 mgd from each of three wells
The only things bigger nearby are the City of St. Marys (6 mgd) and the Rayonier paper mill at Jesup (74 mgd).
For comparison, Kingsland 4, Waycross-Ware County Industrial Park 3.4, Waycross 3.16, Jesup 3, Kings Bay Submarine Base 2.9 + 1 for irrigation, Satilla Regional Water and Sewer Authority 2.2, Folkston 1.0. Even Chemours in Wayne County only wants 0.605 and Southern Ionics only 0.504 in Charlton County and another 0.504 in Pierce County.
All the permitted withdrawals in Charlton County add up to less than half what TPM wants for its titanium mine near the Okefenokee Swamp:
| Permittee | mgd average per month |
| --- | --- |
| Homeland | 0.150 |
| Martin Marietta St. Mary's Sand Company | 0.2 |
| Southern Ionics | 0.504 |
| Folkston | 1.0 |
| Total | 1.85 |
For further comparison, the 1.152 mgd Nestlé wants from Ginnie Springs on the Santa Fe River in Florida is barely more than a quarter of what TPM wants from the same Floridan Aquifer. Each of the three wells TPM proposes would draw more water than Nestlé has applied for.
That Nestlé application is getting national and international coverage. This TPM withdrawal application should, as well.
This TPM water withdrawal application would, according to TPM's own application, affect the Floridan Aquifer under the Okefenokee Swamp.

Figure 5. Drawdown 365 days; Potentiometric Surface, Floridan Aquifer
As pointed out in the Suwannee Riverkeeper comments to the U.S. Army Corps of Engineers, the Swamp already interchanges water with groundwater. As pointed out to the Corps by Okefenokee Swamp Park (OSP), any change to the water level in the Swamp would affect the whole Swamp, as far as OSP on the north and Stephen C. Foster State Park on the west. The Swamp is the headwaters of the Suwannee and St. Mary's Rivers, so anything that affects the Swamp can affect those rivers.
Help Suwannee Riverkeeper save the Okefenokee Swamp
You can object to a titanium strip mine proposed far too near the Swamp.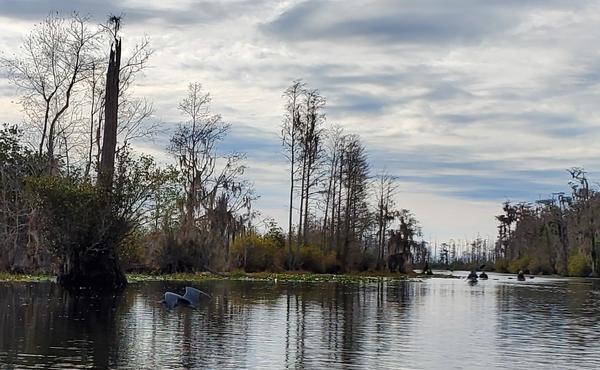 ---
GA-EPD has a public comment period open until March 20th on the Twin Pines Minerals Mining Land Use Plan.
Here is the Public Notice and the documents on which you need to comment.
You can email or paper mail your comments, or join one of two zoom webinars.
Land Protection Branch,
4244 International Parkway,
Atlanta Tradeport- Suite 104,
Atlanta, Georgia 30354
You can write to your Georgia state representative or senator or governor or lieutenant governor and ask them to refuse any such instrument.
Here's a convenient comment form by Georgia Water Coalition:
https://protectgeorgia.org/okefenokee/#/320/
Or to find your legislator you can type in your ZIP code here: http://openstates.org/find_your_legislator/
These are the Georgia state Senators with districts most involved with the Okefenokee Swamp:
District 003 Senator Sheila McNeil (R-Brunswick) (Brantley County), (404) 656-9644, 912.464.1989, sheila.mcneill@senate.ga.gov, info@mcneillforsenate.com With the new redistricting, District 3 will include all of Charlton County, including the mine site.
District 008, Senator Russ Goodman (R-Lake Park) (Lowndes, Lanier, Echols, Clinch, Cook, Brooks, and Thomas Counties), (404) 656-7454, 912-218-0447, russ.goodman@senate.ga.gov, rustingoodman@gmail.com With the new redistricting, Senate District 8 no longer will include any of Charlton County, so not the mine site, but it will include the south and west parts of Ware County, so the Okefenokee Swamp west of the mine site.
District 007 Senator Tyler Harper (R-Ocilla) (Tift, Berrien, Irwin, Ben Hill, Coffee, Bacon, Atkinson, Ware, and Charlton Counties), (404) 463-5263, tyler.harper@senate.ga.gov. His district includes the Okefenokee Swamp, and he is the Chair of the Senate Natural Resources and Environment Committee. With the new redistricting, Senate District 7 goes away entirely, being absorbed by District 8 and District 3.
These are the Georgia state Representatives with districts most involved:
You can also write to your U.S. Representative or Senator and ask them to urge the Corps to take back up its oversight of the mine site. See former letter from Rep. Al Lawson (FL-05).
For the requested Georgia state permit regarding Section 401 of the Clean Water Act, you can send a comment or request for public hearing to
Stephen Wiedl, Wetlands Unit, stephen.wiedl@dnr.ga.gov
Georgia Department of Natural Resources, Environmental Protection Division, Water Protection Branch, 7 Martin Luther King, Jr. Drive, Atlanta, Georgia 30334.
Be sure to mention Applicant: Twin Pines Minerals, LLC, Application Number: SAS-2018-00554.
For the Georgia Coastal Management Program certification, you can send a comment to
Federal Consistency Coordinator, Ecological Services Section, Coastal Resources Division,
Georgia Department of Natural Resources, One Conservation Way, Brunswick, Georgia 31523-9600
Telephone 912-264-7218.
You can also write to the Georgia DNR board, asking them to refuse any such instrument.
Georgia Board of Natural Resources
2 Martin Luther King Jr. Drive, SE, Suite 1252, Atlanta, GA 30334
To submit a letter to the editor of the Charlton County Herald, you can email editor@charltonherald.com.
Or write to your local newspaper.
You can also contact radio, TV, and of course post on social media.
Sources
This TPM permit application was first published by Mary Landers, Savannahnow.com, 9 September 2019, updated 11 September 2019, For Okefenokee supporters, proposed mine too close to refuge, as 7-24-19 Final Application for Industrial Groundwater Withdrawal Permit Uploaded bysavannahnow.com Date uploadedon Sep 06, 2019.
It is now on the WWALS website.
The other withdrawal figures for the six southeast Georgia counties were obtained from GA-EPD thanks to MarthaJane Winkler.
Much more about the proposed TPM mine is here:
https://www.wwals.net/pictures/2019-07-12–tpm-usace/
-jsq, John S. Quarterman, Suwannee RIVERKEEPER®
You can join this fun and work by becoming a WWALS member today!
Short Link: