Update 2019-11-13: Pictures of the Final Finishers.
FOR IMMEDIATE DISTRIBUTION
Hahira, Georgia, October 30, 2019 — Twice the paddlers this year participated in the Second Annual WWALS Boomerang Paddle Race into Florida and back to Georgia. That's two dozen paddlers and about fifty people last Saturday at State Line Boat Ramp on the Withlacoochee River.
"Paddlers from 3 to 69 years old included five parent-child tandems, and three solo children. All were led by overall winner and first male paddler Russell McBride, of Quitman, Brooks County, Georgia, in a solo kayak, and first female paddler Jennifer James of Waldo, Alachua County, Florida, on a stand up paddle board," reported Boomerang mastermind Bobby McKenzie.
Winning in categories were Monica McKenzie (sit down paddle board), Eliza McKenzie solo female kayak, Tom and Beatriz Potter tandem, Lauretta and Mikayla Stephenson female tandem, and Alan and Alyssa Stephenson mixed tandem, all of Valdosta, Lowndes County, Georgia. Anthony and Kaiden Heath of Adel, Cook County, Georgia came in as first male tandem. Conn and Trudy Cole of Barwick, Brooks County, Georgia, were in the first and only Canoe. Except for the canoe and the two paddle boards, all paddlers were in kayaks. All are pictured, with their times, on the WWALS website: wwals.net/pictures/gretchen/2019-10-26–wwals-boomerang
"Thanks for your welcome to Florida, Hamilton County, FL, Commissioner Beth Burnam!" said Suwannee Riverkeeper John S. Quarterman. "We only had one paddler from Florida this time, Jennifer James from Alachua County, but we hope Hamilton, Madison, and Suwannee Counties especially will send some for Boomerang 2020."
Also receiving orange tumblers with the Boomerang logo was Alexis Stewart of Valdosta State University and VSU CORE as first four-miler. Bret Miller of Barney, Brooks County, GA, and NWXpeditions got a tumbler as first vendor or sponsor. Thanks to both outfitters for providing free boat rental, which got several families on the water: 3 tandems and 1 solo kayak from VSU Core, and 1 tandem and 2 solo from NWXpeditions.
Ethan McKenzie came from farthest away, Manchester, Coffee County, TN, and Logan and Chris are also from there. Logan McKenzie was youngest at 7, with honorable mentions Zavier 5 and Evan 3, and Tom Potter oldest.
Becky Garber of Fitzgerald, Ben Hill County, GA, came in last, closely following Cindy Leighton of Ocilla, Irwin County, GA.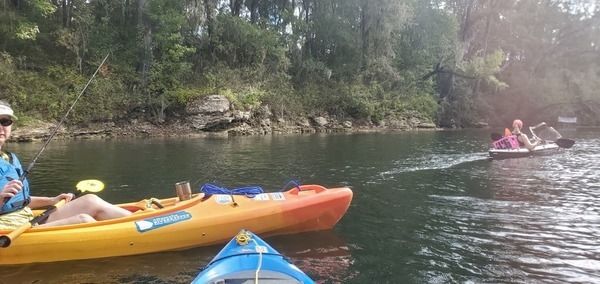 Cindy Leighton with a fishing pole as Becky Garber approaches the three-mile Suwannee Riverkeeper banner, 12:11:55, 30.6274105, -83.2723296
"Our next paddle race is the Eighth Annual BIG Little River Paddle Race, Saturday, April 25, 2020, at Reed Bingham State Park, between Adel and Moultrie, Georgia," said BLRPR mastermind Bret Wagenhorst.
According to Boomerang 2019 volunteer record-keepers Dan Phillips and Shirley Kokidko, twenty four people (15 male and 11 female) paddled in nineteen boats. Eleven paddlers did the full six-mile round trip. Seven paddlers did the four-mile round trip, and eight paddlers did two miles.
Plus volunteer Shelby Miller paddled down to the shoals at the center of the course and guided people through them for hours, at the cost of her phone. It's a good thing she's a good sport.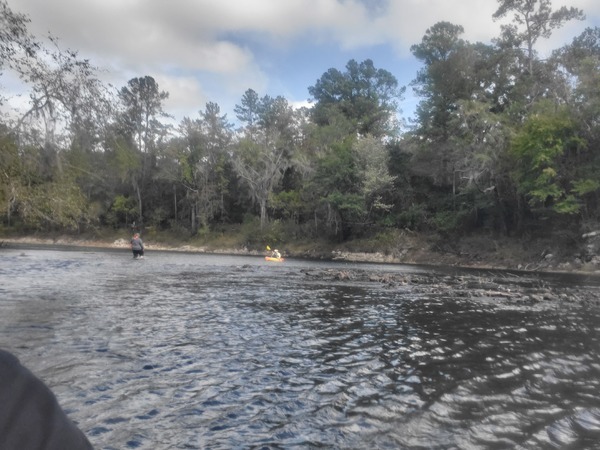 Only the Tennessee McKenzies came from outside WWALS Watersheds, from the Duck River. It's a good thing we took in the Santa Fe River recently, since Jennifer James comes from there. Not surprisingly considering the location, Valdosta and Lowndes County had the most paddlers, but 10 cities and 7 counties in 3 states were represented.
Thanks to all the sponsors (on banner in booth). TNT Hot Dogs provided food and drink on site. Dan and Bret Miller marked the course with sponsor banners early Saturday morning.
Four people associated with Girl Scouts participated, although they were not an official sponsor.

Bret Wagenhorst at the timeclock and Gretchen Quarterman heading for the video camera.
Thanks to the numerous other volunteers, especially Bret Wagenhorst for providing the time clock and finish banner, Gretchen Quarterman for videoing the race and the prizes and other support, and Scotti Jay for additional photography.

Scotti Jay holding up the Finish banner as Eliza McKenzie comes in.

Winners and other participants
Everything about the WWALS Boomerang 2019 is here:
https://wwals.net/pictures/2019-10-26—boomerang/
About WWALS Watershed Coalition (WWALS):
Vision: A healthy watershed with clean, swimmable, fishable, drinkable water.
Mission: WWALS Watershed Coalition advocates for conservation and stewardship of the Withlacoochee, Willacoochee, Alapaha, Little, and Suwannee River watersheds in south Georgia and north Florida through education, awareness, environmental monitoring, and citizen activities.
Suwannee Riverkeeper® is a staff position and a project of WWALS Watershed Coalition as the Waterkeeper® Alliance member for the Suwannee River Basin, since December 2016.
Contact: Bobby McKenzie, 808-445-4503, chevy752001@yahoo.com
John S. Quarterman, 229-242-0102
===
-jsq, John S. Quarterman, Suwannee RIVERKEEPER®
You can join this fun and work by becoming a WWALS member today!
Short Link: