Another letter in the Charlton County Herald, October 23, 2019, same issue as the letter posted previously. You can send your own letter to the editor or comment to the Army Corps or GA-EPD.

Lawtey, FL, Highland Mine, Chemours, google earth.
Mining Ruined Family Field

Dear Editor,

Let me start out by saying that I have not been a part of any protests that have been going on. I don't think anyone can foresee if the proposed strip mining will actually harm the swamp. We probably won't know until many years have passed. Only time will truly tell.

However, I can say that the strip mining by Dupont in Bradford County did do a lot of harm to my Grandfather's strawberry farm! My Grandfather owned a farm that joined Dupont's property east of Lawtey, Florida. He was very dependent on a fresh water, spring fed creek that ran through his farm. This water was used to irrigate the strawberries. Dupont told the same lies that Twin Pines Minerals is telling us now! They claimed the mining would have NO impact on their neighbors and that the land would be "100% plantable".

Well, here is the proof of the lies: Go to Google Earth and look at the satellite photos just east of Lawtey, next to my grandfather's farm which butted up to Dupont's property. They mined right through the stream and springs that went through his property. The stream dried up, my Grandfather could no longer irrigate and he lost the strawberry business that he had depended on for so many years.

Google Earth photos will show the scar in the land where this strip mining happened over four decades ago.

I will be more than happy to take Mr. Ingle the short ride down to Lawtey and show him the "proof". I have not been protesting, but his letter in this paper was like rubbing salt in the wounds Dupont's lies caused my family so many years ago.

Sincerely,
Charles F. Arwood,
Folkston

Email editor@charltonherald.com
to submit a letter to the editor!
Thanks to Christian Hunt for sending an image of the letter.
The DuPont mine Charles F. Arwood refers to is now the Chemours Highland Mine, which is in the middle of a string of Chemours titanium mines up Trail Ridge in north Florida. Chemours and Twin Pines Minerals are under a Florida Consent Order for all four of them.
That hasn't stopped Chemours from applying for a fifth one to the south, the Trail Ridge South Mine. Chemours didn't answer whether TPM would be involved in that one. But TPM is the applicant for that titanium mine next to the Okefenokee Swamp in Charlton County, Georgia.
You can send your own letter to: editor@charltonherald.com

Charlton-County-Herald-10.24-0001
PDF
All about that proposed TPM titanium mine next to the Okefenokee Swamp:
wwals.net/issues/titanium-mining/
Help Suwannee Riverkeeper save the Okefenokee Swamp
You can object to a titanium strip mine proposed far too near the Swamp.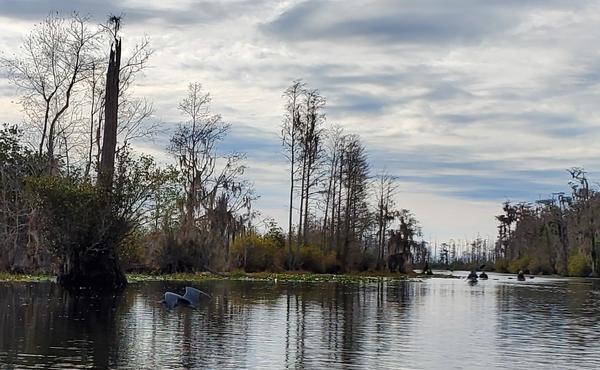 ---
You can write to your Georgia state representative or senator or governor or lieutenant governor and ask them to refuse any such instrument.
Here's a convenient comment form by Georgia Water Coalition:
https://protectgeorgia.org/okefenokee/#/320/
Or to find your legislator you can type in your ZIP code here: http://openstates.org/find_your_legislator/
These are the Georgia state Senators with districts most involved with the Okefenokee Swamp:
District 003 Senator Sheila McNeil (R-Brunswick) (Brantley County), (404) 656-9644, 912.464.1989, sheila.mcneill@senate.ga.gov, info@mcneillforsenate.com With the new redistricting, District 3 will include all of Charlton County, including the mine site.
District 008, Senator Russ Goodman (R-Lake Park) (Lowndes, Lanier, Echols, Clinch, Cook, Brooks, and Thomas Counties), (404) 656-7454, 912-218-0447, russ.goodman@senate.ga.gov, rustingoodman@gmail.com With the new redistricting, Senate District 8 no longer will include any of Charlton County, so not the mine site, but it will include the south and west parts of Ware County, so the Okefenokee Swamp west of the mine site.
District 007 Senator Tyler Harper (R-Ocilla) (Tift, Berrien, Irwin, Ben Hill, Coffee, Bacon, Atkinson, Ware, and Charlton Counties), (404) 463-5263, tyler.harper@senate.ga.gov. His district includes the Okefenokee Swamp, and he is the Chair of the Senate Natural Resources and Environment Committee. With the new redistricting, Senate District 7 goes away entirely, being absorbed by District 8 and District 3.
These are the Georgia state Representatives with districts most involved:
You can also write to your U.S. Representative or Senator and ask them to urge the Corps to take back up its oversight of the mine site. See former letter from Rep. Al Lawson (FL-05).
For the requested Georgia state permit regarding Section 401 of the Clean Water Act, you can send a comment or request for public hearing to
Stephen Wiedl, Wetlands Unit, stephen.wiedl@dnr.ga.gov
Georgia Department of Natural Resources, Environmental Protection Division, Water Protection Branch, 7 Martin Luther King, Jr. Drive, Atlanta, Georgia 30334.
Be sure to mention Applicant: Twin Pines Minerals, LLC, Application Number: SAS-2018-00554.
For the Georgia Coastal Management Program certification, you can send a comment to
Federal Consistency Coordinator, Ecological Services Section, Coastal Resources Division,
Georgia Department of Natural Resources, One Conservation Way, Brunswick, Georgia 31523-9600
Telephone 912-264-7218.
You can also write to the Georgia DNR board, asking them to refuse any such instrument.
Georgia Board of Natural Resources
2 Martin Luther King Jr. Drive, SE, Suite 1252, Atlanta, GA 30334
To submit a letter to the editor of the Charlton County Herald, you can email editor@charltonherald.com.
Or write to your local newspaper.
You can also contact radio, TV, and of course post on social media.
-jsq, John S. Quarterman, Suwannee RIVERKEEPER®
You can join this fun and work by becoming a WWALS member today!
Short Link: