Update 2020-02-19: Awful: Knights Ferry, Nankin, Withlacoochee River 2020-02-17.
In Florida water quality results for Monday through Thursday last week, the high numbers Monday had already died down somewhat from the state line downstream, by the time Lowndes County saw high numbers at the state line and upstream on Tuesday, on the Withlacoochee River and Okapilco Creek.
WWALS collected water samples yesterday (it rained all day Sunday), so we should have some results later today or tomorrow. You can help. Sure would be nice if Valdosta would help.

WWALS composite results from Lowndes County and Florida, February 10-13, 2020.
See also the entire of WWALS composite spreadsheet going back to December 10, 2020.
According to Darlene Velez, Suwannee River Water Management District (SRWMD) Water Resources Chief,
Please see below for sampling results from last week on the Withlacoochee River. Monday (2/10) was the only day with results over health threshold. With additional rain, the County Health Departments plan to keep the advisory out and continue sampling this week. I touched base with Michael Mitchell, this health advisory has shifted to a local county level response and sampling is not being coordinated at the state level. They have asked for any additional information that people should be directed to DOH-Hamilton and DOH-Madison listed as contacts on the advisory and no longer to FDEP and FDOH state office in Tallahassee although they will continue to pass on information they receive. I copied the County contact information below.

Contact:

DOH-Hamilton
Sallie Ford
Sallie.Ford@flhealth.gov
386-758-1058

DOH-Madison
Lisa Hayes
Lisa.Hayes@flhealth.gov
850-973-5000


2020-02-13–fl-wq-results; see also PDF.
Note that Florida Department of Health (FDOH) colors anything lower than about 400 MPN/100 mL as green, while WWALS more conservatively colors anything from 126 to 409 orange. We concur that 410 or above is red, although we color anything 1000 and up as magenta, like that one Lowndes County Okapilco Creek number in the first graphic above (see What do these numbers mean?).
What we all really want to see is zero (0), of course, like WWALS saw before Valdosta's record-largest raw sewage spill of December 2020. We don't know that any of this recent contamination has anything to do with remaining sewage, but we don't yet know that it doesn't. However, the data is pointing more towards the Quitman Land Application Site (LAS) as a suspect, along with some cows.
For context, this map shows the area of the results depicted.

Map: US 84 to FL 6 in WWALS map of Withlacoochee and Little River Water Trail (WLRWT).
You can help WWALS test water quality by donating to our WWALS water quality testing program.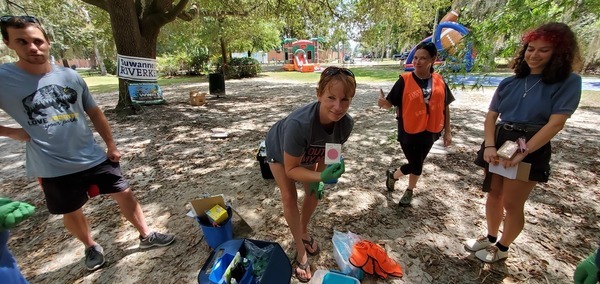 Suzy Hall with a Petrifilm.
Each bacterial test costs $6 for Petrifilms alone.
WWALS is spending about $40 a day on Petrifilms after this Valdosta spill.
Much more about recent water quality is on the WWALS website.
-jsq, John S. Quarterman, Suwannee RIVERKEEPER®
You can join this fun and work by becoming a WWALS member today!
Short Link: