Update 2020-02-18: Withlacoochee still not clean Thursday but not alarming in Florida results 2020-02-13.
Update 2020-02-14: Fixed typo; apparently FDOH tests were collected Monday, February 10, 2020.
Lowndes County's upstream results for Tuesday, February 11, 2020, are as bad at US 84 as FDOH's result at CR 150 (Sullivan Launch) the previous day.
Yes, Okapilco Creek downstream of US 84 is especially bad. But Okapilco Creek has more E. coli than anyone would like upstream at GA 76, too. And no, Valdosta is still not off the hook.
We still need to find out where all this contamination is coming from. You can help.

Not Good Results 2020-02-11
Thanks to Lowndes County Chairman Bill SLaughter for these Tuesday results, which are on the WWALS website, along with the full WWALS composite result table going back to December 10, 2019.
These results are much different from Lowndes County's tests of Wednesday, February 5. There's been no rain to speak of since last Thursday, February 6, five days before these recent Tuesday tests, so what's going on?
Rain upstream is washing something downstream.
Much of that rain fell upstream and is still coming downstream. More than an inch fell that Thursday at the Withlacoochee River Skipper Bridge Gauge upstream of Valdosta. While the river level has peaked there, much of that water is already downstream and more is coming.
The Withlacoochee River is still rising at US 41 (North Valdosta Road).
That water is washing through the area contaminated by Valdosta's record-largest December 2019 raw sewage spill. Is it flushing contamination previously stuck in deadfalls and sloughs?
These recent test results are extremely unlikely to be because of the tiny Monday 200 gallon raw sewage spill on Twomile Branch. Something that small will have long since been diluted beyond detection down-river.
More water usually comes down the Little River to its Confluence with the Withlacoochee River, and this looks like no exception. Way up at the Little River Tifton Gauge on Upper Ty Ty Road, 0.7 inches of rain fell last Wednesday, and 0.9 inches last Thursday. That Gauge is in the upper center of this map.

Tifton Gauge down Withlacoochee River to Suwannee River on the WWALS map of the Withlacoochee and Little River Water Trail.
At the Adel Gauge, only a third of an inch fell Wednesday, but three inches fell Thursday. That gauge has peaked, but that water is still coming downstream.
The Little River Hahira Gauge at Folsom Bridge on GA 122 got almost an inch of rain Thursday. That direct rain didn't raise the river as much as the water coming from upstream, which has the Little River still rising at Folsom Bridge.
The Withlacoochee River US 84 Gauge is downstream of all that. It got more than half an inch of rain Thursday, but it's all the water from upstream that's still driving the river level up.
Coming with that water is contamination from somewhere, washed downstream.
Presumably there was rain upstream on Okapilco Creek, too, washing down the contamination that Lowndes County saw not only below US 84, but also at GA 76.
WWALS will be testing this weekend, and we won't be surprised if the creeks and rivers are still dirty.
You can help WWALS test water quality by donating to our WWALS water quality testing program.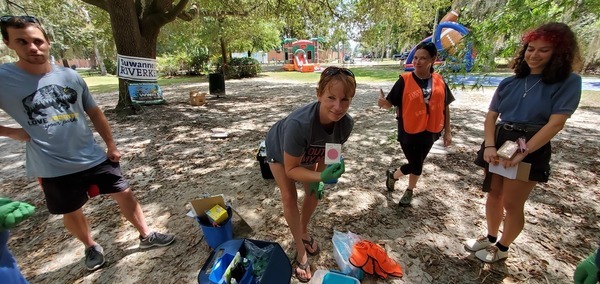 Suzy Hall with a Petrifilm.
Each bacterial test costs $6 for Petrifilms alone.
WWALS is spending about $40 a day on Petrifilms after this Valdosta spill.
Much more about recent water quality is on the WWALS website.
-jsq, John S. Quarterman, Suwannee RIVERKEEPER®
You can join this fun and work by becoming a WWALS member today!
Short Link: