U.S. Rep. Al Lawson Jr, Twitter, 2PM, 14 February 2020, @RepAlLawsonJr,
I sent a letter to the Army Corps of Engineers to express my concerns about Twin Pines Minerals, LLC's plan to mine for titanium near the Okefenokee National Wildlife Refuge. These actions could have detrimental effects on the area's biodiversity and natural resources.
---
AL LAWSON
5TH DISTRICT, FLORIDA
ASSISTANT MAJORITY WHIP
COMMITTEE ON
FINANCIAL SERVICES
COMMITTEE ON
AGRICULTURE
Congress of the United States

House of Representatives

Washington, DC 20515-0905
February 13, 2020
Col. Daniel Hibner
U.S. Army Corps of Engineers
Savannah District
100 W. Oglethorpe Avenue
Savannah, Georgia 31401
Dear Hearing Officer:
I am writing to express my concerns about Twin Pines Minerals, LLC's application for a clean water (CWA) permit to mine for titanium near the Okefenokee National Wildlife Refuge, Osceola National Forest, and Osceola Wildlife Management Area. I urge the U.S. Army Corps of Engineers (Corps) to carefully consider the significant environmental, social, and economic costs that could occur if the permit is granted. It is crucial that the Corps require an environmental impact statement under the National Environmental Policy Act (NEPA). Furthermore, the Corps should reject the permit application if it appears the mine will harm the environment.
If approved, the project would destroy portions of Trail Ridge, which acts as a geomorphological dam, ensuring clean water is stored within the Okefenokee. The U.S. Fish and Wildlife Service fears that mining operations on Trail Ridge could affect the hydrological integrity of the swamp and potentially impair the entire 438,000-acre Okefenokee ecosystem. The EPA similarly noted that mining "will have a substantial and unacceptable impact" on what it considers an Aquatic Resource of National Importance.

GA-FL line, Okefenokee Swamp, Wayne Morgan, Southwings, 2019-10-05
While the mining would occur in Georgia, the Okefenokee Refuge sits in Baker County, Fla. — making it one of Florida's most valued resources. In addition to the pristine habitat for wildlife, the Refuge benefits small businesses and provides millions of dollars to the local economy. This area is unparalleled in natural beauty and biodiversity and is home to hundreds of species.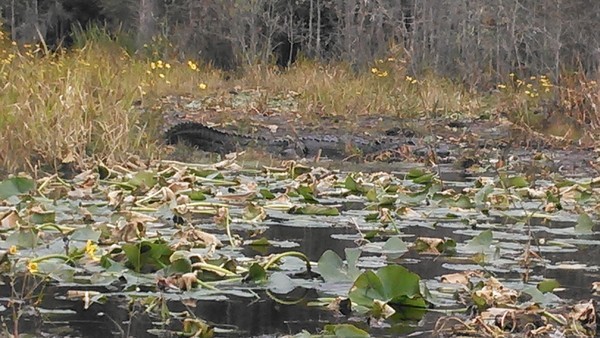 Photo: John S. Quarterman, big gator, November 11, 2014.
Both the CWA and NEPA dictate that the public must have the opportunity to meaningfully comment upon projects of this nature. The public has yet to see key information concerning the project, as Twin Pines Minerals has failed to produce multiple hydrological studies My constituents depend on a healthy Okefenokee Swamp, and it is unacceptable that such little consideration has been given to how the project will affect Florida's resources.
I appreciate your consideration of this request, and I respectfully request that you provide periodic updates and rationale for the Corps' forthcoming permit decision.
Sincerely,
[signed]
Al Lawson
Member of Congress
---
I was advised of this letter through email from one his staffers, Cierra Smith. Maybe her flight with Southwings over the swamp on October 5, 2019, contributed towards this letter.

Lisa Ring, Ciera Smith (Al Lawson), Suwannee Riverkeeper, pilot Allen Nodorft (Southwings) 2020-10-05.
We invited all the candidates for U.S. Congress, GA-01, to fly. So far Lisa Ring is the only one to take up that offer.
While Twin Pines Minerals has withdrawn its permit application, soon it will probably apply again.
Much more about this bad strip-mining proposal is on the WWALS website:
wwals.net/issues/titanium-mining/
-jsq, John S. Quarterman, Suwannee RIVERKEEPER®
You can join this fun and work by becoming a WWALS member today!
Short Link: