Update 2020-03-02: Suwannee River contamination running downstream to the Gulf 2020-03-01.
Still bad water quality all the way to Luraville and Mayo, according to FDOH Friday for the Withlacoochee River and SRWMD Saturday for the Suwannee River.
A catalog of WWALS, Valdosta, Lowndes County, FDEP, FDOH, and SRWMD results is at wwals.net/issues/testing/. You can help.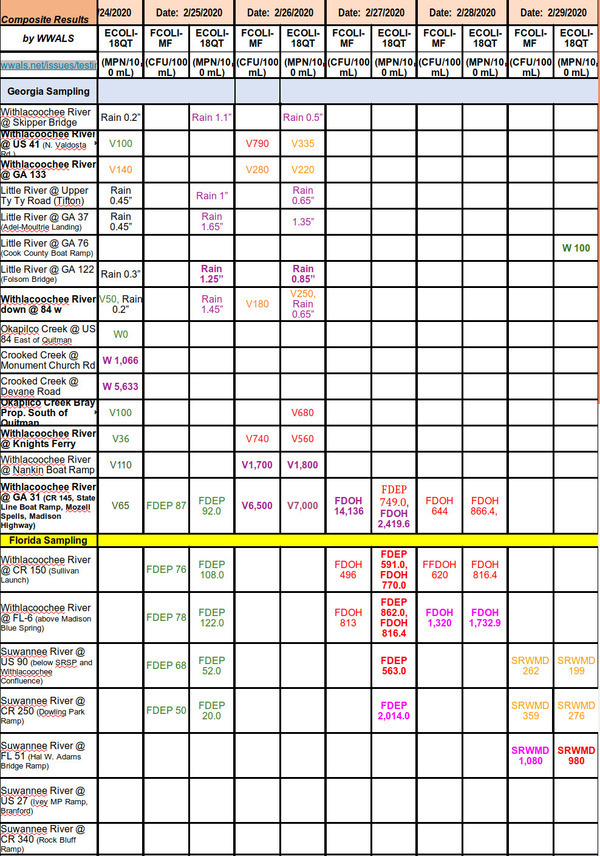 2020-02-29–excerpt-WWALS-composite-wq-results
Extract from WWALS composite water quality test results from Georgia and Florida.
A couple days ago I remarked that nobody knew the water quality of the Suwannee River downstream from Dowling Park, because nobody had tested that. Saturday SRWMD did test down at the Hal W. Adams Bridge on FL 51, between Mayo and Luraville, and the result was above the alert level of 1,000, while at Dowling Park it was back below the too-high level of 410. Apparently something was moving down the Suwannee River.
We still don't know what's going on downstream of FL 51, for example at US 27 (Branford) or CR 340 (Rock Bluff Ramp). This is more evidence that we need regular, frequent, testing at all these locations, not just after a spill or other upstream alert.
Thanks to Katelyn Potter of the Suwannee River Water Management District (SRWMD) for forwarding the Florida updates late Sunday evening. Thanks to SRWMD and Madison Health for testing on a weekend, and to Florida Department of Health (FDOH) for helping. Thanks to Florida Department of Environmental Protection (FDEP) and Julie Espy for posting results on an FDEP web page. No update on Valdosta's results website for Friday yet.
WWALS testers Conn and Trudy Cole got a result for the Little River at GA 76, upstream of the Little River Confluence with the Withlacoochee River.
They remark, "We were interested to see what our counts would be since the River was "washing the woods".&rquo;
Their result was 100 cfu/100 mL, which is within the Georgia Adopt-A-Stream and EPA level of 126 for good longterm average results. This would seem to add to the evidence that it's probably not wildlife that is the source of the spikes of high E. coli we're seeing in the Withlacoochee and Suwannee Rivers.
They also noted, "We tried at Withlacoochee and Okapilco @ Hwy 84 but the water was too high. We considered the bridge but there was too much traffic."
Another WWALS tester drew water at locations on the Withlacoochee Sunday; results on that later today or tomorrow morning.
The recent testing and online publication by Florida and Valdosta is a great improvement, especially when combined with WWALS testing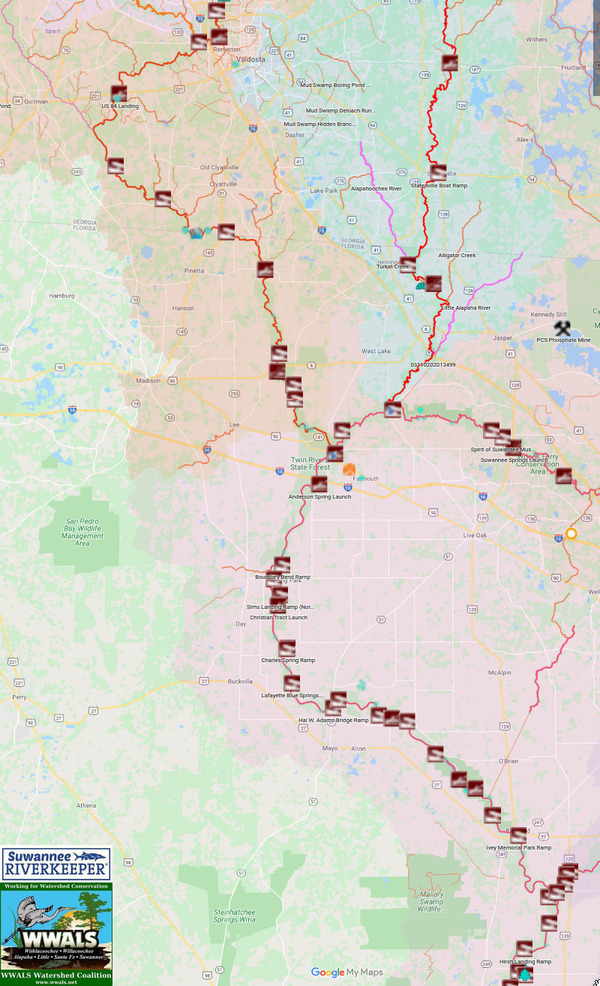 Valdosta and Quitman to Rock Bluff Ramp
in WWALS map of all public landings in the Suwannee River Basin.
But still more is needed. There's also still the little matter of reimbursement to the Florida counties and individuals in both Florida and Georgia who paid for well testing. Valdosta, are you listening? I did mention this to Valdosta Utilities Director Darryl Muse Wednesday in Atlanta and to Valdosta Mayor Scott James today.
Please continue to contact your local and state elected officials in Florida and Georgia to ask for funding and personnel for frequent (several times a week) testing at closely-spaced stations along all our rivers, with timely online publication.
You can help WWALS test water quality by donating to our WWALS water quality testing program. Or maybe you know a bank or other source of larger financial support.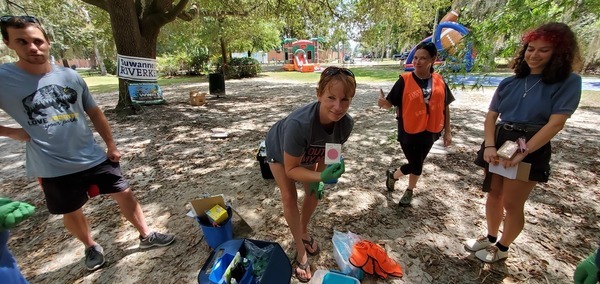 Suzy Hall with a Petrifilm.
Each bacterial test costs $6 for Petrifilms alone.
WWALS is spending about $40 a day on Petrifilms and other materials after this Valdosta spill.
Maybe you want to get trained and help test; if so, follow this link.
-jsq, John S. Quarterman, Suwannee RIVERKEEPER®
You can join this fun and work by becoming a WWALS member today!
Short Link: