If it was this bad at the state line yesterday, this contamination must be in Florida by now. So watch out Lowndes and Brooks Counties, Georgia, and Madison and Hamilton Counties, Florida.
I am going now to collect some samples, as are some other WWALS testers. You can help.

Bad from US 41 to state line
For context and the entire WWALS composite spreadsheet of Georgia and Florida data, see wwals.net/issues/testing/.
So after contamination after last week's rain, the Withlacoochee River was cleaner Sunday and even more so during the week. But that changed much for the worse with the rain yesterday.
The FDOH before recent datapoints means Florida Department of Health, in this case actually Madison Health. The V before datapoints is for Valdosta, which collected that data and reported it this afternoon.
The W before the Saturday and Sunday datapoints is for WWALS. Once again, Suzy Hall's numbers are vindicated by Valdosta data. Conceivably the contamination just hadn't reached State Line in a day, although that seems unlikely with good flow in the river now.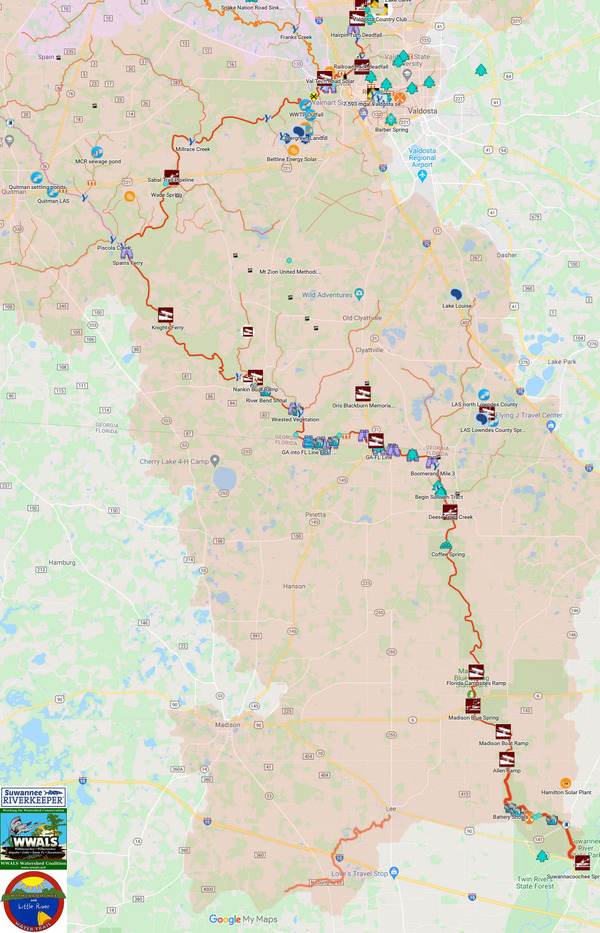 Quitman and Valdosta to Suwannee River
In the WWALS map of the Withlacoochee and Little River Water Trail.
See also What do these numbers mean?
-jsq, John S. Quarterman, Suwannee RIVERKEEPER®
You can join this fun and work by becoming a WWALS member today!
Short Link: