Update 2020-07-20: All green to go, Withlacoochee River 2020-07-18.
Going by the good downstream Florida results FDEP posted yesterday for Monday, July 13, shortly before Tom Mirti announced those results in the SRWMD Board meeting yesterday, as he predicted, Madison and Hamilton Counties, Florida, Health Departments today lifted the bacterial advisory they posted last Thursday. Not much rain has fallen lately, so results will probably stay good downstream until the next big rain.

Florida Withlacoochee River Advisory lifted
PDF
So I've marked State Line Boat Ramp and the Florida "beaches" green on Swim Guide.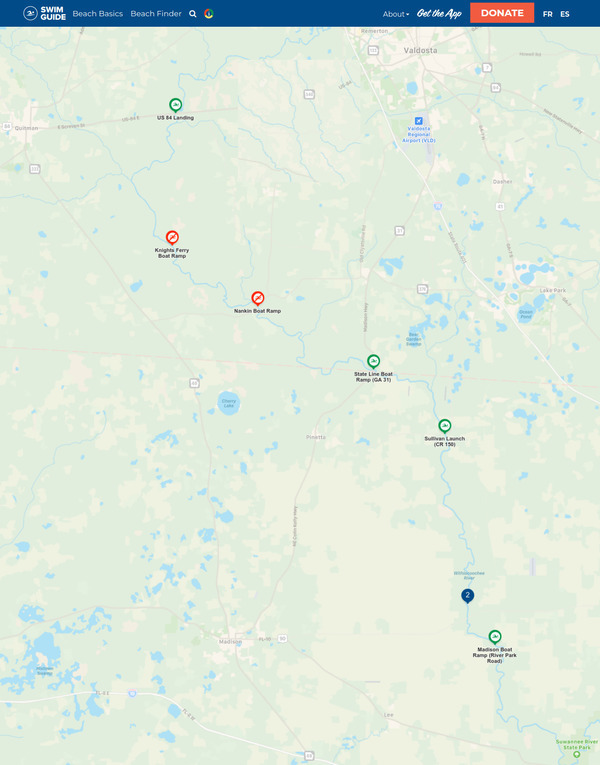 Green State Line and Florida in Swim Guide
We have good Valdosta Monday results for US 84 and upstream, but nothing downstream yet, so Knights Ferry and Nankin Boat Ramps remain red. Since there's been no significant rain lately, and results are good upstream and downstream, chances are Knights Ferry and Nankin are also good, but we can't change Swim Guide for them until we get new test results.

Cleaner downstream; no news upstream
For the complete WWALS composite spreadsheet of Georgia and Florida results and other context, see wwals.net/issues/testing/.
Thanks to Lisa B. Hayes, Operations and Management Consultant Manager at Florida Department of Health (FDOH) in Madison and Jefferson Counties, for sending the notice of lifted advisory.
Thanks to Valdosta PIO Ashlyn Johnson for posting the Monday Valdosta upstream results.
All the above datapoints are on the WWALS Withlacoochee and Little River Water Trail (WLRWT).

Relevant Landings in the Suwannee River Basin
WWALS map of public landings in the Suwannee River Basin.
And thanks to WWALS tester Tasha Ekman LaFace for the good Alapaha River result for Saturday for Naylor Beach, in the same park as Naylor Boat Ramp, which is visible in the upper right corner of the above map. That's in Lowndes County on US 84 east of Valdosta towards Stockton in Echols County, Georgia, on the Alapaha River Water Trail (ARWT).
-jsq, John S. Quarterman, Suwannee RIVERKEEPER®
You can join this fun and work by becoming a WWALS member today!
Short Link: