With the dogs in the truck, I thought I would let them wet their feet in the Withlacoochee River at Langdale Park Boat Ramp.
Nope, gate closed.
So I called Valdosta-Lowndes County Parks and Recreation Authority (VLPRA). They said they're fixing up the entrance road at Langdale Park, with the assistance of Lowndes County. I agreed that it had needed it; plenty of potholes. They said they expected to reopen some time in August, although everything was delayed due to pandemic. Ain't that the truth.
This is VLPRA's largest park, 3781 North Valdosta Road, Valdosta, GA 31602. It is just downstream of the US 41 (North Valdosta Road) bridge over the Withlacoochee River, which is one of Valdosta's tri-weekly water quality testing locations.
VLPRA last renovated that entrance road three years ago, when they even removed the sandbar from Langdale Park Boat Ramp.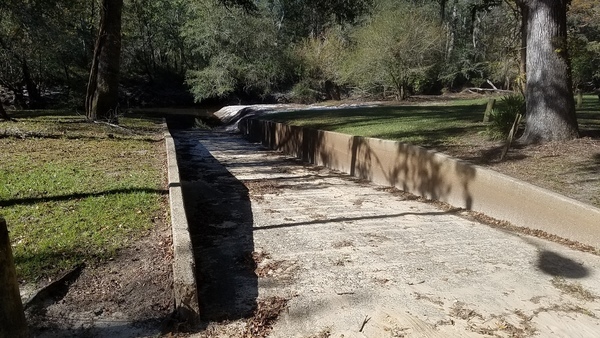 It's the nature of dirt roads in this subtropical climate that they need maintenance.
-jsq, John S. Quarterman, Suwannee RIVERKEEPER®
You can join this fun and work by becoming a WWALS member today!
Short Link: