2020-07-15: Lifted: Florida Withlacoochee River Bacterial Advisory 2020-07-15
WCTV covered the recent bad water quality results in the Withlacoochee River.
We have no new Withlacoochee River data from Georgia or Florida.
Update 2020-07-14 11:30 AM: Valdosta has updated with Friday downstream results: Knights Ferry, 270 cfu/100 mL E. coli; Nankin, 250; State Line, 280. FDEP just updated at 10:57 AM with these much better Monday results: GA 31, 10; CR 150, 20; FL 6, 60. So maybe those WWALS Saturday bad results at Knights Ferry and Nankin already washed downstream.
But we do have a datapoint on the Alapaha River.

Photo: Tasha Ekman LaFace, of Naylor Beach, 2020:01:11 14:06:32, 30.9253083, -83.0384972
Amber Spradley, WCTV, 13 July 2020, Withlacoochee River contaminated in parts of South Georgia and North Florida,
VALDOSTA, Ga. (WCTV)—The Florida Health Department issued an advisory last Friday for parts of North Florida near the Withlacoochee River regarding alarming rates of E. coli.

"Right now, the results are not good," Suwannee [Riverkeeper] John [S.] Quarterman said.

For counts of E. coli, Quarterman says anything less than 410 is okay, but zero is always ideal.

On Saturday, his team discovered numbers as high as 5,233 just west of Clyattville at the Knights Ferry Boat Ramp in Lowndes County.

"Every time this happens, they immediately point and say it's Valdosta," Quarterman said. "Well, this time it's almost certainly not Valdosta."

The high data was collected just below the city from Knights Ferry Boat Ramp to Madison Blue Spring in Florida.

"You know it's something that we're continuing to keep an eye on, but as far as the numbers around the city of Valdosta, those have all stayed relatively low," the City of Valdosta's PIO Ashlyn Johnson said.

City crews test the river three times a week for 40 river miles down to the Georgia-Florida line. Since Valdosta's major sewage spill last December, they've seen no alarming contamination rates in the area.
Well, they found nothing alarming Friday down to US 84, but we haven't yet seen Valdosta's results for the lower three stations on the Withlacoochee River, and they certainly have seen alarming contamination previously.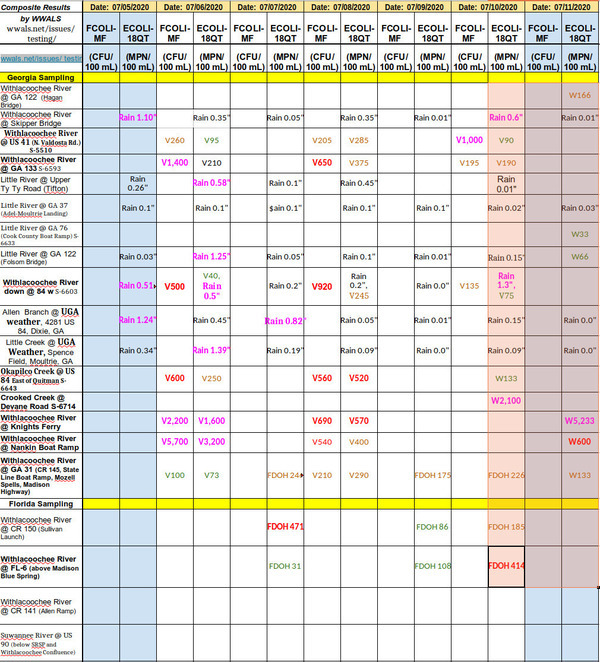 Dirty Knights Ferry, Nankin, FL 6
For the complete WWALS composite spreadsheet of Georgia and Florida results and other context, see wwals.net/issues/testing/.
The rest of the article is about the 7.26 million gallon catch basin at the entrance of Valdosta's Withlacoochee Wastewater Treatment Plant (WWTP).
"It's something that you hope you never have to use. But just kind of like insurance, you have it in case you get that huge rainfall again," Johnson said.

The new project will help prevent sewage spills into the river.

"It's good they're doing the catch basin and other improvements," Quarterman said. "They need to keep doing that because if there's a big rain without that catch basin, we could have a repeat of December 2018." Advertisement

Johnson says the city will break ground on the new basin towards the end of the week.
Hm, I thought we heard last year that Valdosta was already digging that dirt pit. Anyway, it's good that they're finally doing it, so as to prevent big spills such as 2/3 of those that happened in December 2018. It will do nothing to prevent the other 1/3 of those spills, nor the record spill of December 2019. But so far as I know Valdosta is working on preventing those kinds of spills as well.
Thanks to WWALS tester Tasha Ekman LaFace, we do have a datapoint on the Alapaha River for Saturday, July 11, 2020. She got 100 cfu/100 mL at Naylor Beach, and that's quite good. Naylor Beach is in the same Lowndes County park as Naylor Boat Ramp, on US 84 east of Valdosta towards Stockton in Echols County, Georgia.
Whenever there is E. coli in the Withlacoochee River, somebody always wonders if it's coming from deer. Well, deer do use the woods as a latrine. But if there was enough deer poop to contaminate a river, why does the Alapaha River never show high E. coli after the same rains that cause high E. coli in the Withlacoochee River?
What's the difference between the rivers? Very few cattle near the Alapaha River. Also few septic tanks, goats, horses, etc.
-jsq, John S. Quarterman, Suwannee RIVERKEEPER®
You can join this fun and work by becoming a WWALS member today!
Short Link: