Steve Nichols and Suwannee Riverkeeper will ask again: does anybody want to drink dirty water? That's 8:30 AM tomorrow, October 6, 2020, on 105.9 FM WVGA. In addition to water quality testing, we'll also discuss the big cleanup coming up this Saturday on three rivers and many creeks, and the Third Annual WWALS Boomerang paddle race from Georgia into Florida and back. Plus some other outings.

Water Quality Testing 2020-08-18
The top rated morning talk show in south Georgia, Steve Nichols offers both sides of every story from Berrien County to the Beltway, and everywhere in between.

You can listen at 105.9 FM, on the WVGA Live apps, through ValdostaToday.com (link on front page), on Alexa devices, or you can stream in-studio video at the official Morning Drive Facebook page.
When: 8:30 AM, Tuesday, October 6, 2020
Where: 105.9 FM WVGA (see above for how to listen)
Event: facebook
Thanks to Steve Nichols for helping promote the Third Annual Suwannee Riverkeeper Songwriting Contest, which went very well.
On Saturday, October 10, 2020, in conjunction with Lowndes County, WWALS will be doing a three-location cleanup at Troupville Boat Ramp on the Little River, on Sugar Creek down to the Withlacoochee River, and at Naylor Boat Ramp on the Alapaha River, plus Valdosta is organizing several creek cleanups.
https://wwals.net/?p=53557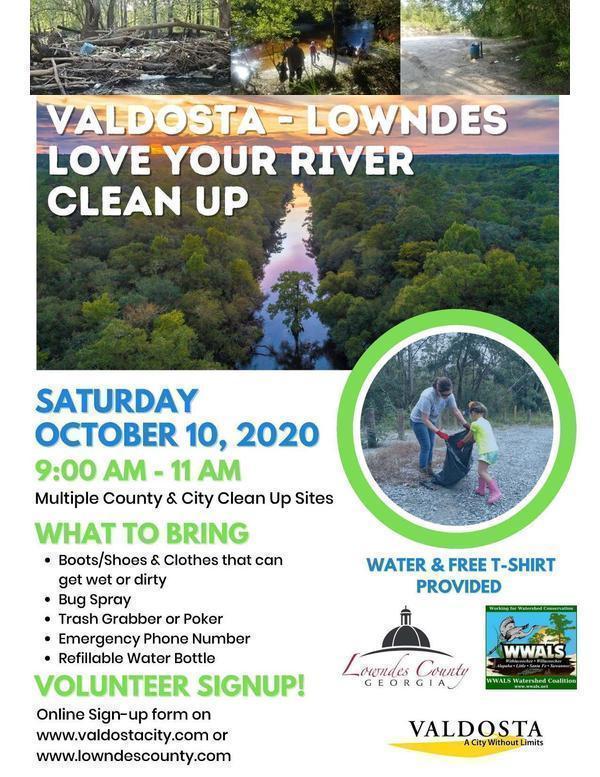 Flyer: Cleanup on three rivers, many creeks
On Saturday, October 24, 2020, there's the Third Annual WWALS Boomerang paddle race from Georgia into Florida and back.
Tickets to the WWALS Boomerang are $20 online through Ocotber 15, then $30 at the event.
https://www.eventbrite.com/e/wwals-boomerang-paddle-race-2020-tickets-118844038719?aff=efbeventtix
For much more, follow this link: wwals.net/pictures/2020-10-24–boomerang/
On Saturday, October 31, 2020, it's the Banks Lake Full Hunter's Halloween Moon paddle! Yes, bring costumes.
https://wwals.net/?p=53647
For more WWALS outings and events as they are posted, see the WWALS calendar or the WWALS outings and events web page. WWALS members also get an upcoming list in the Tannin Times newsletter.
For all about water quality testing, see https://wwals.net/issues/testing/.
For how we got to the current situation see Current Situation of Water Quality Testing, Suwannee River Basin 2020-08-02
For more about why we think ruminants, especially cattle, are the source of much of the recent river water contamination with E. coli, see WWALS Summary of FDEP chemical and biological tracers, Withlacoochee and Suwannee Rivers 2020-08-05.
-jsq, John S. Quarterman, Suwannee RIVERKEEPER®
You can join this fun and work by becoming a WWALS member today!
Short Link: