Update 2021-03-29: Still clean last week, filthy Friday before, Withlacoochee River 2021-03-26.
Clean everywhere, according to five WWALS testers who sampled spots on 80 Withlacoochee River miles Thursday, plus two on the Little River and one on the Alapaha River.
The latest we have from Madison Health is for Tuesday, and from Valdosta is for Friday a week ago, but those were clean, too. There's been little to no recent rain, so probably nothing bad has washed into the rivers.
Good news for this morning's paddle from Troupville Boat Ramp to Spook Bridge that Scott James calls the Mayor's Paddle.
Laissez les bon bateaux rouler!

Clean results, Spook Bridge, Landings, Photo: Bobby McKenzie.
Thanks to Gretchen Quarterman for testing at Troupville Boat Ramp on the Little River, today's put-in, and at GA 133 on the Withlacoochee River just upstream from the Little River Confluence.

Clean River 2021-03-19-25
For context and the entire WWALS composite spreadsheet of Georgia and Florida water quality results, rainfall, and spills, see:
https://wwals.net/issues/testing/
Thanks to Elizabeth Brunner for testing upstream along GA 122 at Folsom Bridge on the Little River, Hagan Bridge on the Withlacoochee River, and Lakeland Boat Ramp on the Alapaha River.

Photos: Elizabeth Brunner, GA 122, Folsom Bridge, Little River; Hagan Bridge, Withlacoochee River; Capt. Henry Will Jones Bridge, Alapaha River
Thanks to Michael and Jacob Bachrach for testing at Knights Ferry, Nankin, and State Line Boat Ramps on the Withlacoochee River.

State Line Boat Ramp @ GA 31, Withlacoochee River, 2021-03-25
And thanks to Gus Cleary for testing at Cleary Bluff downstream of Allen Ramp on the Withlacoochee River.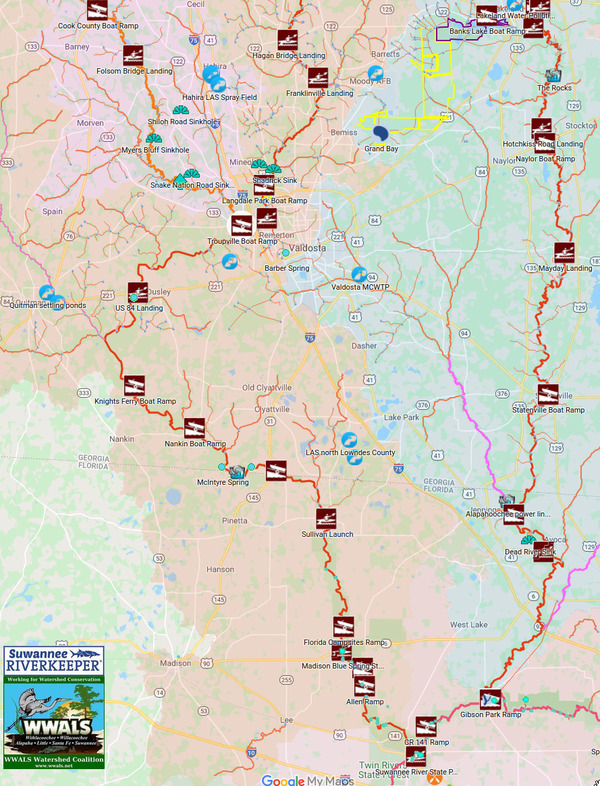 Map: GA 122 to Suwannee River in the WWALS map of all public landings in the Suwannee River Basin.
All the "beaches" are still green on Swim Guide: follow the link, zoom in, and see.
Thanks to Bobby McKenzie for the Spook Bridge pictures. There are more on the WWALS website or in his facebook photoset.
-jsq, John S. Quarterman, Suwannee RIVERKEEPER®
You can join this fun and work by becoming a WWALS member today!
Short Link: