The WWALS Board passed a policy this Tuesday, May 11, 2021:
WWALS Watershed Coalition, Inc, (WWALS) does not discriminate based on race, ethnicity, color, sex, religion, age, national origin, ancestry, citizenship, sexual orientation, gender identity and/or expression, or disability in purpose, activities, or actions.
This has been our practice all along; the Board merely decided to formalize it.
This WWALS policy also applies to Suwannee Riverkeeper, which is a project and a staff position of WWALS.
What does this policy mean for WWALS outings? Actually, not much different from what we have been doing all along. We have had people with various disabilities paddle with us before. We are happy to help people in and out of boats. That applies even to people whose legs fall asleep during a paddle.

Reed Bingham State Park East Boat Ramp (Dan Phillips), Gibson Park Boat Ramp (Bobby McKenzie)
The key is reasonable accommodation.
We describe the level of fitness required for any given outing, so people can decide whether they want to tackle it or not.
Some outings, such as the upcoming Big Shoals portage, up and down steep slippery banks around the biggest rapids on the Suwannee River, will require participants to be able-bodied.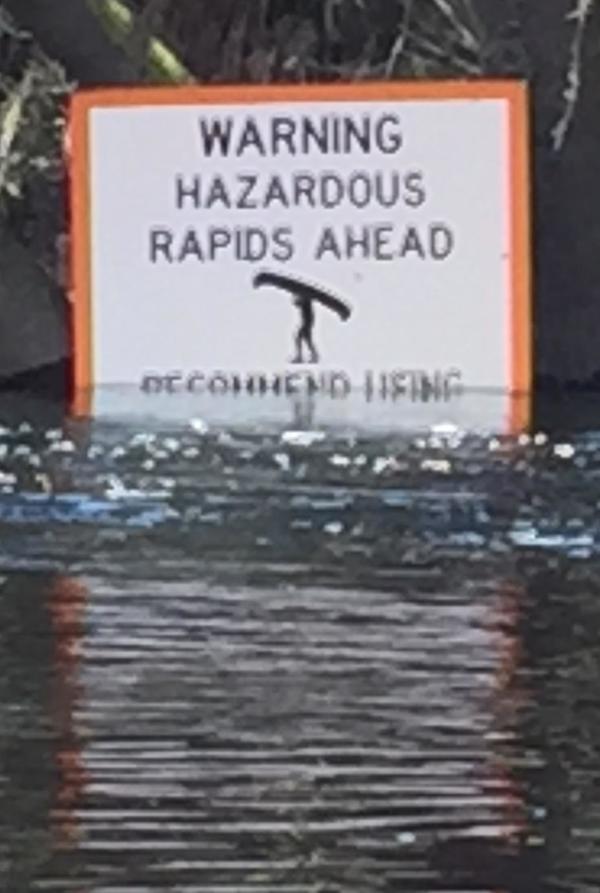 Get Out Now right bank sign –Suzy Hall
Others, such as our flatwater full moon paddles on Banks Lake, are probably manageable by most people who can sit in a boat. We have a standing offer to bring the very stable WWALS bass fisher pontoon boat, with comfortable seats, for anyone who needs that to get on the water at Banks Lake.

Banners
Banks Lake Full Sturgeon Moon (John S. Quarterman 2020-08-03).
We do have some essential criteria for every paddler on every water outing:
Everyone must wear a personal flotation device (PFD).
All paddlers must be able to swim, with a PFD. We don't mean competitive swimming; just the ability to keep your head above the water and mosey along. This also implies that in case of capsizing, you can keep your mouth closed and you have no open trach tube.
What does handicapped accessible mean?
Very few boat ramps in the Suwannee River Basin are considered handicapped accessible.
In Florida, there is only one: Gibson Park Ramp on the Suwannee River in Hamilton County, Florida. How that one differs from Suwannee River State Park (SRSP) Ramp is not clear. SRSP does have three accessible campsites, and at least some of the River Camps have a ramp easy to roll a wheelchair up to at least one sleeping platform.
In Georgia, the boat ramps at the two state parks are announced as accessible. That's Stephen C. Foster State Park Boat Ramp on the Suwannee River in the Okefenokee Swamp in Charlton County, and the two boat ramps on Reed Bingham State Park Lake, West in Colquitt County, and East in Cook County, both on the Little River.
Also considered accessible are all the public ramps at https://wwals.net/maps/withlacoochee-river-water-trail/wrwt-map/wrwt-points/#paradise-lake-landing">Paradise Public Fishing Area, east of Tifton, Georgia, on Paradise Lake, which flows into Hardy Mill Creek, which is a tributary of the Withlaccoochee River. Finally, the private ramp at Ray's Millpond is considered accessible, near Ray City, on Beaverdam Creek, which flows into Cat Creek and then the Withlacoochee River. Both those last two locations are in Berrien County, Georgia.
None of these ramps have special rails or lifts or chutes or anything other than a concrete slope. So it's not clear what makes them more accessible than any other concrete boat ramp.
The Florida Department of Environment Protection (FDEP) has a writeup on Canoe/Kayak Launch Sites and Accessibility that discusses everything from a sandy river bank to a launch chute. Given that FDEP claims a sandy riverbank can be accessible if it has rocks for support getting into a boat, apparently accessibility is somewhat in the eye of the beholder. If that is accessible, most public landings in the Suwannee River Basin are accessible. We publish links to details of each put-in and take-out, so paddlers can judge for themselves whether those access points fit their abilities.
Some places are clearly not accessible, such as US 84 Landing on the Withlacoochee River. That one requires climbing fifty feet up a 45 degree loose rock slope. I've pulled four kayaks up that thing on a rope, one by one, because their owners did not want to attempt it, even though they were all able-bodied.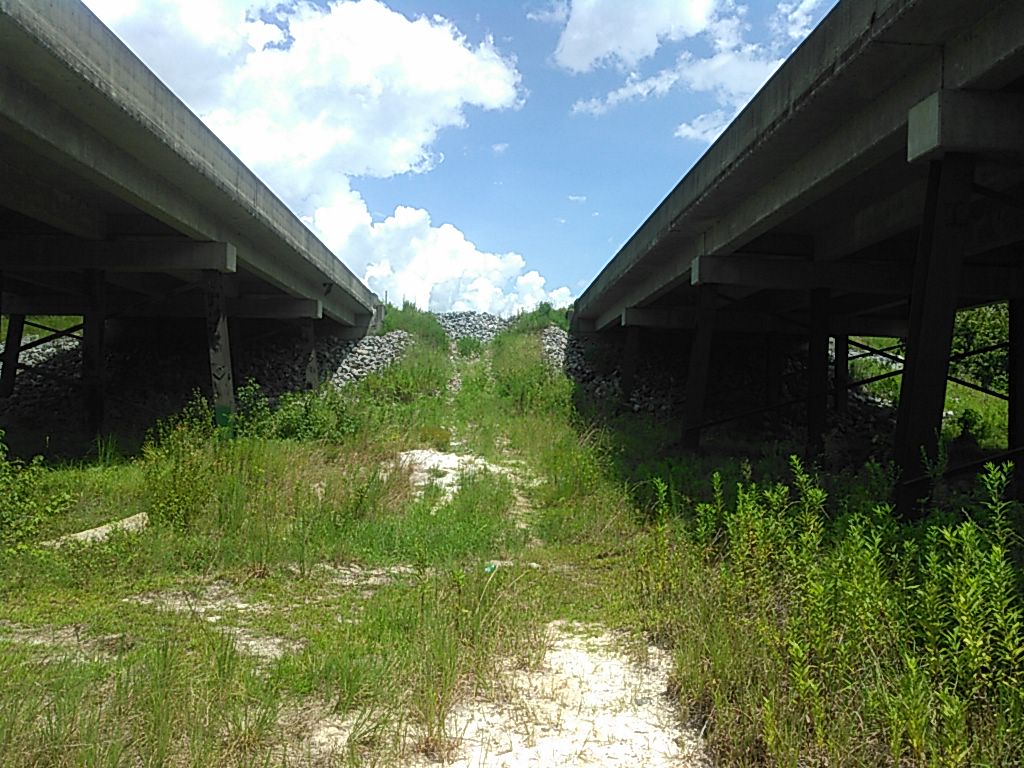 Withlacoochee River US 84 Landing, 2015-08-28
The Withlacoochee River Spook Bridge takeout might be accessible, for people willing to be hauled up from the river on a rope. Most people who take out there do use a rope to climb up. Of course, Spook Bridge is not a public landing, and we only take out there on certain outings, with permission from The Langdale Company, as we did at the Mayor's Paddle, 2021-03-30.

Spook Bridge take out on a rope, 14:21:04, 30.7894152, -83.4514638
On the Alapaha River, Jennings Bluff Launch, with its notorious steep stairs, is challenging even to experienced able-bodied kayakers.

Jennings Bluff Landing (Bobby McKenzie, 2021-05-07)
But most of the access points are more like Naylor Boat Ramp, which is about as easy as any of the declared accessible ramps. There are also riverbank landings, which we describe whenever we use them for outings.

Dan Phillips installing water trail signs at Nayor Boat Ramp (John S. Quarterman).
Regarding the other criteria in the new WWALS policy, WWALS paddles have included people of ages from 1 to over 70, and from as far away as South Africa, Turkey, Romania, and Colombia in South America, as well as people with a wide assortment of sexual orientations and gender identities. We don't inquire about ancestry or religion, but I think it's safe to assume that our paddlers have some variety in those criteria. People of a wide range of races, ethnicities, and colors paddle on WWALS outings. We are aware that our outings and our membership tend to be more white than the general population hereabouts. We are working on that, including a growing number of grant applications, but that's a subject for later blog posts.
Meanwhile, here's the new WWALS Non-Discrimination Policy.
-jsq, John S. Quarterman, Suwannee RIVERKEEPER®
You can join this fun and work by becoming a WWALS member today!
Short Link: