Update 2021-10-06: Pictures: WWALS calls in the Marines to clean up Pafford's Landing 2021-07-24.
Come help WWALS clean up the great beach at Pafford's Landing, on the Alapaha River just east of Lakeland, Georgia. This is a
When: Gather 9 AM, launch 9 AM, end 12 PM, Saturday, July 24, 2021
Put In: Pafford's Landing, East of Lakeland, Georgia, on GA 122, turn right at the Pafford's Landing sign, then follow the second Pafford's Landing sign into the woods, down to the beach. It's on the right bank or west side of the Alapaha River in Lanier County.
Bring: trash pickers and trash bags; we will also have some. No need for a boat, but you can bring one if you want to, with the usual personal flotation device and paddle.
Free: Because it's a cleanup, it's free for everyone.
We recommend you support the work of WWALS by becoming a WWALS member today!
https://wwals.net/donations/#join

Pafford's Landing, Beach, Cleanup
Duration: 3 hours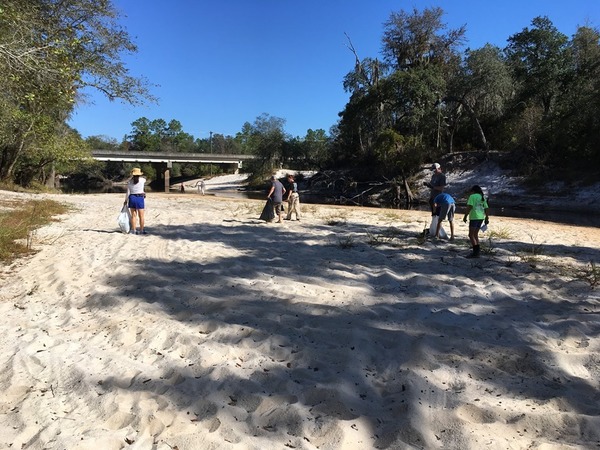 First bit of beach, 2019-10-12.
Paddle: None.
Shuttle: None.
Host: Bobby McKenzie
Contact: Bobby McKenzie

Pafford's Landing @ GA 122, Alapaha River, Lanier County, GA: this is the sign you see after you turn off the highway. The same signpost has road signs and detailed at-water signs for the Alapaha River Water Trail.
Backup: in case of high or low water is: Cancel
Last time: We did this previously in October 2019.

Photo: Gretchen Quarterman, WWALS #RiversAlive Pafford's Landing
More: For more WWALS outings and events as they are posted, see the WWALS outings web page, https://wwals.net/outings/. WWALS members also get an upcoming list in the Tannin Times newsletter.
-jsq, John S. Quarterman, Suwannee RIVERKEEPER®
You can join this fun and work by becoming a WWALS member today!
Short Link: