Eric Cornwell of GA-EPD says "they have yet to submit the toxic impact assessment modeling demonstration. If you are familiar with Adel, the proposed plant site is the former SierraPine engineered wood plant (I think that old plant used to make particleboard or MDF )". Thanks to Eric for a speedy response to my open records request about this wood pellet plant proposed by Spectrum Energy Georgia LLC on a site owned by Green Tree Biomass LLC.

Location, Title, Boundary, Plan
The permit application files are on the WWALS website:
https://wwals.net/pictures/2021-10-22–spectrum-energy-pellet-plant-adel
Why would WWALS, a water organization be concerned about an air quality permit application? Well, this plant sits on the divide between the Little and Withlacoochee River Basins, between Morrison Creek of the Little River and Bear Creek of the Withlacoochee River. Any contaminant spills could end up in one or the other.

Cook Street is marked by the red ellipse in the WWALS map of the Withlacoochee and Little River Water Trail.
Also, this pellet plant would probably draw trees from the same 75-mile radius as other one (Renewable Biomass) already permitted nearby. More clearcutting means more runoff, more contaminants in the waterways, and more flooding.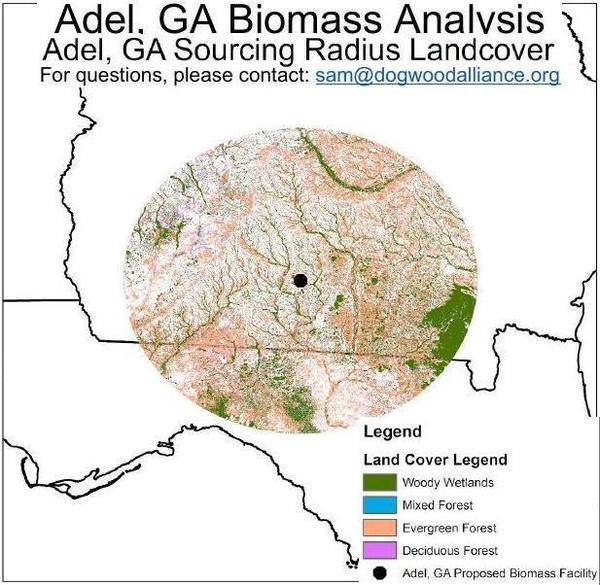 Adel, GA, pellet plant sourcing radius (PDF)
That 75-mile sourcing radius around Adel would reach Tallahassee, Florida, and Albany, Georgia, as well as all of the Red Hills longleaf area around Thomasville. It would include all the Suwannee River Basin in Georgia: the Suwannee, Alapaha, Little, Withlacoochee, and Okapilco Rivers, from Fargo and most of the Okefenokee Swamp to Cordele in the north and Moultrie, Quitman, and Valdosta. As well as much of the Suwannee River Basin in Florida, include White Springs, Live Oak, Mayo, Jasper, and Madison. Plus the Ochlockonee and Aucilla Rivers and much of the Flint River on the west, and on the east most of the Satilla River and a bend of the Altamaha River.
Maybe the application somehow deals with all this. We shall see.
-jsq, John S. Quarterman, Suwannee RIVERKEEPER®
You can join this fun and work by becoming a WWALS member today!
Short Link: