Update 2022-02-06: Pictures: last stretch of the Alapaha River 2022-02-05.
Update 2022-02-01: Expedition leader Shirley Kokidko paddled this stretch, and reports back: "There is limited room for vehicles at the put-in so everyone needs to park up by the highway and carry kayaks down to the river. It is muddy and slippery at the launch. I would not recommend this outing for beginners due to alot of strainers and deadfall in the river with a good current also pushing you along. The water is cold and it is predicted to be a cool day so bring a change of clothes, just in case. Today we saw an eagle, feral hogs, turtles and a lot of ducks."
Update 2021-12-15: History of Alapaha River Bridges, US 41 to Nobles Ferry –Ken Sulak 2021-12-08.
Paddle it while there's water; much of the year the Alapaha River is dry down here, at the bottom of the Alapaha River Water Trail.
We'll also paddle slightly upstream on the Suwannee River to the Alapaha River Rise, which is where the water comes back up from the Dead River Sink when the riverbed is dry in between.
We are dependant on the kindness of the winter wet season. If the Alapaha is dry at this date, we will reschedule until it has water.
When: Gather 9 AM, launch 10 AM, end 3 PM, Saturday, February 5, 2022
Put In: US 41 Alapaha River Landing. South side of the road, under the power line, between Jennings and Jasper, FL, in Hamilton County.
Take Out: Gibson Park Boat Ramp, 6844 SW CR 751, Jasper, FL 32052. Right bank, west side of the Suwannee River. From Jasper, Hamilton County, FL, travel southwest on SW CR 249 to SW CR 751; turn left and boat ramp is on the right in Gibson Park, in Hamilton County.
Bring: the usual personal flotation device, boat, paddles, food, drinking water, warm clothes, and first aid kit. Also trash pickers and trash bags: every WWALS outing is also a cleanup.
Free: This outing is free to WWALS members, and $10 (ten dollars) for non-members. You can pay the $10 at the outing, or online:
https://wwals.net/outings
We recommend you support the work of WWALS by becoming a WWALS member today!
https://wwals.net/donations/#join

Bridge, Alapaha River, US 41. Photos: Bobby McKenzie, 2021-05-07.
Duration: 5 hours
Paddle: 12 miles, 5 hours.
Shuttle: 8.5 miles, 12 minutes.
This outing includes the traditional WWALS shuttle. Everybody takes their boats to the put-in, most people drive to the take-out, and the drivers pile into one or two vehicles and go back to the put-in.
Gauge: Jennings. We need at least 65 feet NAVD 1988.
Camping (update 2021-12-13): For anyone coming out of the area and looking for camping options, Gibson Park has sites: 386-792-1631.
Host: Shirley Kokidko
Contact: Shirley Kokidko
Previously 2021-05-07: Bobby McKenzie and Russell McBride paddled from Sasser Landing to Gibson Park Ramp in May 2021, when the Jennings Gauge read 74 feet.

U.S. 41 bridge from upstream. Photo: Bobby McKenzie, 2021-05-07.
Previously 2019-02-09: Shirley Kokidko, Gretchen Quarterman, Steve Shaw, and Jim Owens paddled from Jennings Bluff Landing to Gibson Park Ramp in February 2019, when the Jennings Gauge read 77.5 feet.

U.S. 41 Bridge, 2019-02-09. Photo: Gretchen Quarterman.

Alapaha River Scouting, 2019-02-09. Photo: Gretchen Quarterman.
Previously 2016-11-23: Thanks to Southwings, we flew over the Alapaha River when it was dry in November 2016, at 61.68 feet on the Jennings Gauge.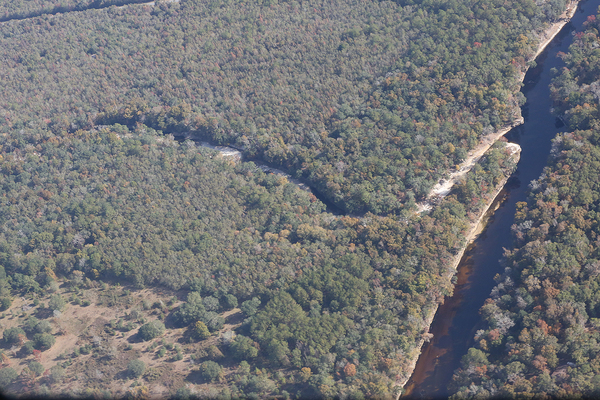 Alapaha River Confluence with Suwannee River, 30.4368660, -83.0982100. Photo: Beth Gammie.
Previously 2014-12-20: WWALS did a cleanup on private land downstream from I-75 while the Alapaha River was dry, in December 2014, when the Jennings Gauge read 62.2 feet.

Dry Alapaha River Cleanup, 2014-12-20. Photo: Gretchen Quarterman.
Backup: in case of high or low water is: Saturday February 19, or Saturday February 26, or some later date as needed.
More: For more WWALS outings and events as they are posted, see the WWALS outings web page, https://wwals.net/outings/. WWALS members also get an upcoming list in the Tannin Times newsletter.
-jsq, John S. Quarterman, Suwannee RIVERKEEPER®
You can join this fun and work by becoming a WWALS member today!
Short Link: