Update 2022-02-07: Little Alapaha River, Swallet, Bridges, Source, Mouth 2022-02-07.
Cold but well worth it, said the nineteen paddlers let by Shirley Kokidko on the WWALS paddle from US 41 on the Alapaha River to the Suwannee River. Plus a distributary that turns out to be the Little Alapaha River. And the Alapaha River Rise, where Alapaha River water from the Dead River Sink comes back up 20 miles and three days later, slightly upstream on the Suwannee River.

US 41 Bridge, Little Alapaha River, Suwannee River, Alapaha River Rise
Here are 360-degree views every 10 seconds, taken with a GOPRO 360.
This paddle's mystery was this distributary:

Helen Crowley returning from the Little Alapaha, 11:07:48, 30.5013830, -83.0383303
It's on the left bank, a third of a mile upstream from the I-75 bridge. According to the maps, it's the Little Alapaha River, which starts some tens of miles north, just across the GA-FL line. Much of the year it never reaches the Alapaha River, presumably because of sinkholes. Apparently we were there at just the right conditions for the Alapaha River to be flowing backwards into the Little Alapaha River as a distributary, probably into some of those same sinkholes.

Inside the Little Alapaha River, 30.5013830, -83.0380000
The Jennings Gauge read 67.8′ NAVD88.
US 41
Despite Shirley's dire warnings, everybody drove right down to the river.
The riverbank was slippery, but nobody fell in.
Off we go.
There was a ferry here long ago.

Old Davenport's Ferry ran here, 10:23:20, 30.5287252, -83.0385210
River full of paddlers.

Nineteen boaters, 10:27:54, 30.5271360, -83.0385740
There was some trash in deadfalls, and some hanging from trees.

Trash hanging in trees, 10:52:49, 30.5114936, -83.0434562
Some impressive oaks.

Big oak at left bend, 11:00:27, 30.5058369, -83.0446601
Lots of resurrection fern: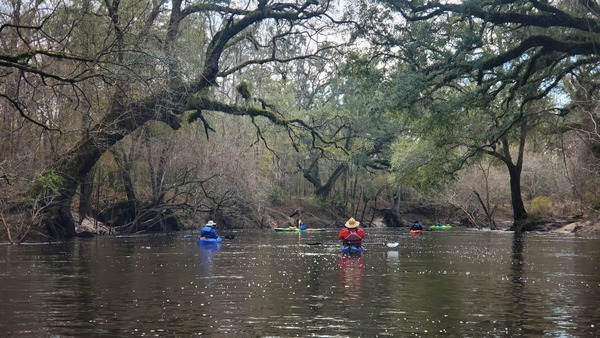 Resurrection fern, 11:07:00, 30.5015825, -83.0383995
One place wild hogs left tracks down to the river.

Wild hog tracks, left (east) bank, 11:29:49, 30.4902243, -83.0493464
Had to eat lunch. And change the GOPRO 360 camera.
The limbo log required lowering the tripod with the GOPRO 360.
Thanks, Jim, for readjusting the tripod back up.

Jim readjusts tripod after limbo log
Then these overhanging branches whacked the GOPRO 360 askew again.
Thanks, Shirley, for putting it back on the level.

Shirley relevels tripod after twisty path
Almost the end of the paddle.

Paddlers enter Suwannee River, 13:58:20, 30.4368789, -83.0970814
There used to be a bridge across the Suwannee River here.

Alapaha River Confluence, right (south) bank, 13:58:45, 30.4368789, -83.0970814
Nobles Ferry used to land on both banks of the Alapaha River.

Site of Nobles Ferry Bridge on right (west) bank of Alapaha River Confluence, 13:59:04, 30.4368789, -83.0970814
Water from Alapaha River Rise enters the Suwannee River.
WWALS and Suwannee Riverkeeper banners at Alapaha River Rise.

Alapaha River Rise, 14:19:24, 30.4388490, -83.0895792
The final destination of the paddle.
A really fancy boat ramp.
Ray's dog Taco is the namesake of the new WWALS outings pet policy which we'll have ready some time soon now.

Ray Figueroa and Taco the dog at Gibson Park Boat Ramp, 14:32:54, 30.4376470, -83.0935130
See you next time.
There are many more pictures on the WWALS website.
See also facebook photosets by:
All these sites are on the WWALS Alapaha River Water Trail (ARWT).
For more WWALS outings, see https://wwals.net/outings. WWALS members also get a list of outings and events in the Tannin Times WWALS monthly newsletter.
-jsq, John S. Quarterman, Suwannee RIVERKEEPER®
You can join this fun and work by becoming a WWALS member today!
Short Link: