Making a deposit down at Citizens Community Bank of Hahira, I was waylaid by Senior VP Charles Henry Hobrat, who revealed what those odd machines are in his office.
They are slot machines from Mozell's Place, which was a seafood restaurant near the GA-FL line and the Withlacoochee River. That restaurant is why State Line Boat Ramp is commonly referred to as Mozell Spells. Anybody who remembers exactly where the restaurant was, please let me know.
CH said he found those slots in an old barn near Barney, Georgia, in Brooks County. Which is like him: he find all sorts of antique things; I've known him since junior high school. He speculated that they may not have been entirely legal in Georgia, and maybe were hidden away before the restaurant closed.

Charles Henry Hobrat with slots from Mozell Spells
One of them has an inspection plate from 1935.
According to Donald O. Davis, Director, Lowndes County Historical Society, "This may be the only "fish house restaurant" that existed at the banks Withlacoochee. It was near the new 1940 bridge. A place of stories, it is said that they served fried fresh water fish whether it was legal or not, and the service was slow sometimes because only one eye was working on the stove."
I have to wonder, what with the Florida license, was Mozell's Place even in Georgia? Or was it slightly across the state line? Can somebody who remembers please clarify where the restaurant was located.
Update 2023-07-14: I'm told it was left of the highway at the river. So presumably about where the clearing is now above State Line Boat Ramp.

Map: State Line Boat Ramp in the WWALS map of the Withlacoochee and Little River Water Trail (WLRWT)
Also, when did Mozell's Place close? The man himself was named Mozell Spell, born 28 February 1910, died 9 January 1976, buried Sunset Hill Cemetery, Valdosta, Georgia.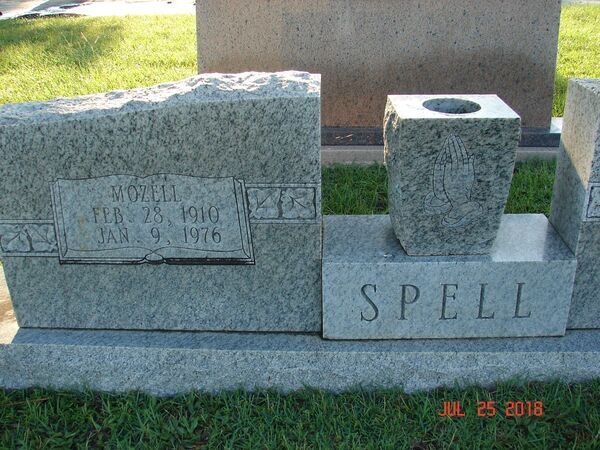 Mozell Spell tombstone, Sunset Hill Cemetery, Valdosta, GA; Photo: Robert Strickland on 25 Jul 2018
C.H. also has some gum vendor machines from a building in Hahira.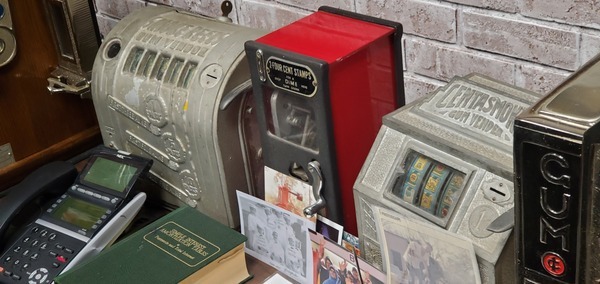 Gum vendor machines from Hahira
-jsq, John S. Quarterman, Suwannee RIVERKEEPER®
You can help with clean, swimmable, fishable, drinkable, water in the 10,000-square-mile Suwannee River Basin in Florida and Georgia by becoming a WWALS member today!
https://wwals.net/donations/
Short Link: