Update 2023-10-11: Entrance cleared to Langdale Park Boat Ramp 2023-10-10.
Update 2023-09-29: Mostly Clean Rivers 2023-09-28.
It seemed like a good idea at the time. Yesterday I thought it would be faster and easier to collect a water quality sample at Langdale Park, rather than drive through the high grass on the way below the U.S. 41 bridge, or to walk on busy US 41 to throw a bucket into the Withlacoochee River.
I briefly forgot Hurricane Idalia had been here. Not surprisingly, clearing deadfalls in a park has not been high priority.

Deadfalls on Langdale Park entrance road and Withlacoochee River 2023-09-28
I have reconstructed the right rear bumper of my Prius. But I recommend doing what the next pair of visitors did: stop before the first entrance road deadfall and walk in.
Langdale Park Boat Ramp is at 3781 N. Valdosta Rd., Valdosta, GA 31602, in Lowndes County.
And before you ask, the cleared area along the entrance road as you go in was never part of the park. It is privately owned and is being prepared for a subdivision.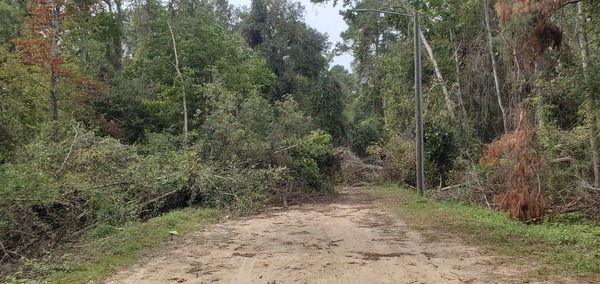 Weave right, Langdale Park, Withlacoochee River 2023-09-28, 2023:09:28 12:30:00, 30.8862942, -83.3180019

Weave left, Langdale Park, Withlacoochee River 2023-09-28, 2023:09:28 12:30:05, 30.8862942, -83.3180019

Ground impediment, Langdale Park, Withlacoochee River 2023-09-28, 2023:09:28 12:27:54, 30.8861394, -83.3188463

Deadfall pine, Langdale Park, Withlacoochee River 2023-09-28, 2023:09:28 12:06:15, 30.8859026, -83.3211795

Deadfall oak and power line, Langdale Park, Withlacoochee River 2023-09-28, 2023:09:28 12:11:51, 30.8867263, -83.3230156

Langdale Park Boat Ramp, Withlacoochee River 2023-09-28, 2023:09:28 12:13:39, 30.8875116, -83.3234582

Deadfall just upstream, Langdale Park, Withlacoochee River 2023-09-28, 2023:09:28 12:14:25, 30.8876097, -83.3239079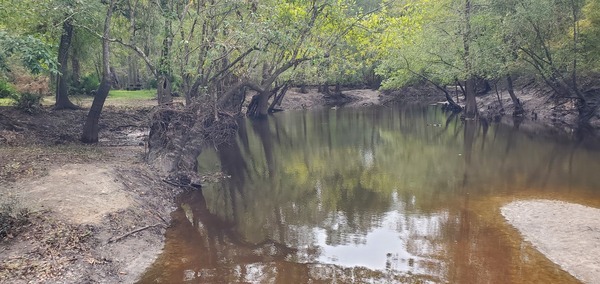 Downstream, Langdale Park, Withlacoochee River 2023-09-28, 2023:09:28 12:14:29, 30.8876097, -83.3239079

Sample, Langdale Park, Withlacoochee River 2023-09-28, 2023:09:28 12:18:11, 30.8876500, -83.3241620

Sample across, Langdale Park, Withlacoochee River 2023-09-28, 2023:09:28 12:18:14, 30.8876495, -83.3241619
Short Link: