A rock field, many springs, and shoals add to the beautiful landscape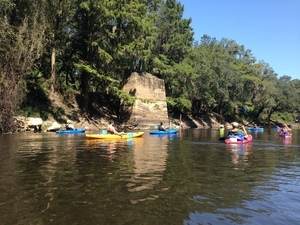 of one of the finest stretches of River you may ever paddle! Mostly on the Withlacoochee River, plus just after Suwanoochee Spring, we turn left up the Suwannee River to Suwannee River State Park (SRSP). Will the chair still be there, on top of the old bridge pier?
When: 7:30 AM, Saturday, June 4th 2016
facebook event, meetup.
Duration: 13.3 miles  about 7 hours
Put in: Florida Campsites Ramp
MILE 13.3, 2137 NW 47th St, Jasper, FL 32052
30.501128, -83.242411
Directions: Continue reading →