A rock field, many springs, and shoals add to the beautiful landscape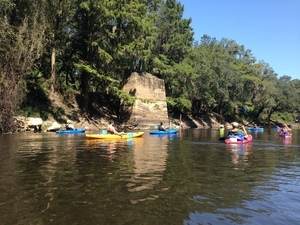 of one of the finest stretches of River you may ever paddle! Mostly on the Withlacoochee River, plus just after Suwanoochee Spring, we turn left up the Suwannee River to Suwannee River State Park (SRSP). Will the chair still be there, on top of the old bridge pier?
When: 7:30 AM, Saturday, June 4th 2016
facebook event, meetup.
Duration: 13.3 miles  about 7 hours
Put in: Florida Campsites Ramp
MILE 13.3, 2137 NW 47th St, Jasper, FL 32052
30.501128, -83.242411
Directions: From Jasper, Hamilton County, FL, travel north on US 41 to SR 6; turn left; travel west on SR 6 to CR 143; turn right and travel north to NW 44 Street; turn left; follow road to NW 45 Street; turn right; follow road to NW 22 Avenue; turn left and follow road to NW 21 Place and ramp is on the right. Also Known as Withlacoochee Ramp
Take out: Suwannee River State Park (SRSP) boat ramp
30.3877, -83.1688
3631 201st Path, Live Oak, FL 32060
This is a quarter mile upstream on the Suwannee River.
Parking: $5.00/vehicle at SRSP.
Shuttle: 30 minutes each way, 1.5 hours total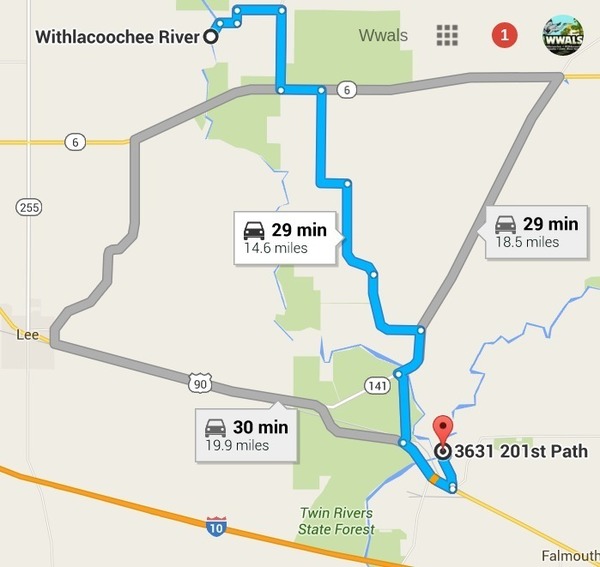 Responsible party: Chris Mericle 
Bring: Boat, paddle, personal flotation device, snacks, drinking water. If you don't have a boat, let us know, and we can probably rustle one up for you.
This outing is Free! But we encourage you to join WWALS today to support our fun outings and important work: /donations/. See our newsletters, and the press Releases and news. And consider joining the Withlacoochee River Water Trail Committee.
Last time: We paddled much of this route September 21st, 2014, when we saw this chair on top of the old bridge pier just north of CR 141.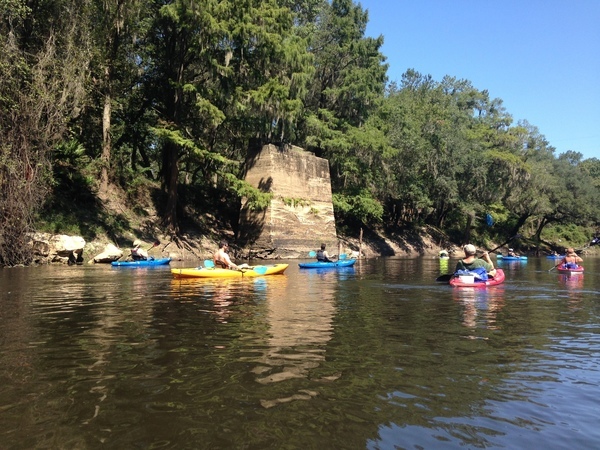 Water level: Watch the USGS Pinetta gage, which is upstream of the put-in, and for which water.weather.gov has predictions. If it's going to be above minor flood stage at 14 feet or 74 feet above sea level, we will consider the backup plan instead. As I write on April 7th, the Pinetta gage is peaking at 20.9 or 80.9 feet, which is above moderate flood stage at 80.5 feet. The graph below is live, so see for yourself.

Live prediction for Withlacoochee River near Pinetta (CR 150), by National Weather Service.
Where: Stephen Foster State Park Visitors Center to Billies Island in the Okefenokee Swamp (and back).
When: 8AM, June 4th, 2016
Directions: From Fargo, GA take US 441 South approx. 1 mile, turn left onto GA 177- follow to visitors center.
Coming up even sooner
For more outings and events as they are posted, see the WWALS calendar.
-jsq
You can join this fun and work by becoming a WWALS member today!
Short Link: