This is the family cemetery of an early settler family. Starting in 1835, Owen Smith owned land on both sides of the Withlacoochee River and east to Cat Creek and at least briefly across that, too, totalling more than 3,000 acres, according to the Wiregrass Region Digital History Project. It is called the Owen Smith Cemetery by FindaGrave.com.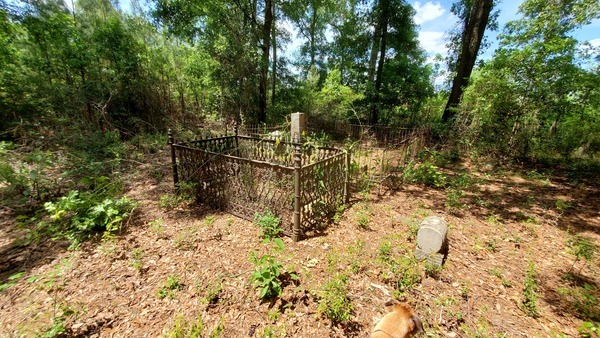 Iron fence, 14:31:07, 31.0265649, -83.2880907
Or earlier, since according to the apparently well-documented Smith-Gray-Dupree family tree on ancestry.com, Owen Smith married Jemima K. Mathis in Lowndes County, Georgia. They were not original settlers, since Lowndes County was established by the Georgia General Assembly in 1825, but they were apparently the first settler holders of much of that land.
The tallest remaining headstone is for Jemima Mathis Smith. The broken one near it was apparently Owen Smith's. He was born 26 February 1810 in Columbus, North Carolina, died in Valdosta, Lowndes County, Georgia, 8 September 1901. Continue reading →