This is the family cemetery of an early settler family. Starting in 1835, Owen Smith owned land on both sides of the Withlacoochee River and east to Cat Creek and at least briefly across that, too, totalling more than 3,000 acres, according to the Wiregrass Region Digital History Project. It is called the Owen Smith Cemetery by FindaGrave.com.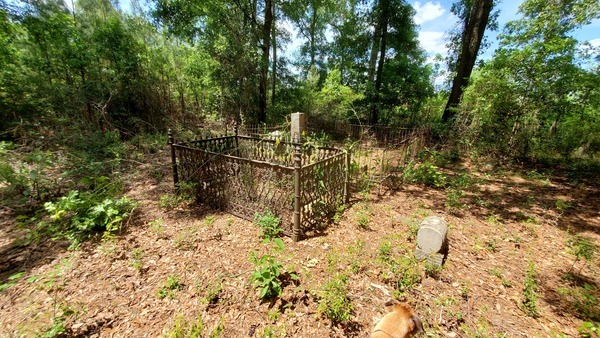 Iron fence, 14:31:07, 31.0265649, -83.2880907
Or earlier, since according to the apparently well-documented Smith-Gray-Dupree family tree on ancestry.com, Owen Smith married Jemima K. Mathis in Lowndes County, Georgia. They were not original settlers, since Lowndes County was established by the Georgia General Assembly in 1825, but they were apparently the first settler holders of much of that land.
The tallest remaining headstone is for Jemima Mathis Smith. The broken one near it was apparently Owen Smith's. He was born 26 February 1810 in Columbus, North Carolina, died in Valdosta, Lowndes County, Georgia, 8 September 1901.

Tall headstone, 14:31:58, 31.0267324, -83.2880452
Her headstone is quite legible. It doesn't say, but she was from Bulloch, Georgia.

Jemima Smith, Feb. 6, 1810, Aug. 19, 1880. 14:33:51, 31.0267130, -83.2881180
Captain William A. Smith has his own iron fence. His sister married a Hagan, which may be why the Wiregrass Region Digital History Project says it is also known as Hagan Cemetery.

Small iron fence, 31.0267379, -83.2880328
His headstone is half-buried in an anthill, so I added the missing details [in square brackets] from FindaGrave.com.

Capt. Wm. A., Smith, Born [Nov. 26, 1835, Died Nov. 8, 1882], Aged 48 years, 31.0267300, -83.2880490
As is all too common before the twentieth century, there were child graves.

Infant son of J.A. & L.E. Smith, born Jan. 14, 1892, died July 29, 1892, 31.0265994, -83.2881317
This one lived to be six years old. Details again from FindaGrave.com.

[M.N. Griffin, Son of L.L. & E. Griffin, Born Jul. 2,] 1865, Died Dec. 24, 1871, ???dens?, 31.0267200, -83.2881260
Some fragments are completely illegible.

Broken fragment, 14:34:11, 31.0267195, -83.2881263
Another child grave, also interpolated from FindaGrave.com.

[William McNeal], Born [Dec] 4, 1878, Died Feb. 2?, 1879, [Sleep on, sweet William, and take thy rest. God called thee home, He ?oug ???st., 31.0267190, -83.2881290
And those are all the stones I found. I heard at the Georgia Sheriffs' Boys Ranch. that some stones had been moved elsewhere, they did not know where. Certainly FindaGrave shows pictures of more stones than that.
Probably forty years ago I walked through the woods the three miles to this cemetery with my father. He had been told it was a slave cemetery. If there are graves of enslaved people in there, they may be unmarked.
Back then, the cemetery was on the grounds of the Boys Ranch. But in 2012, they sold quite a bit of acreage in Lowndes and Brooks Counties, Georgia, to Shiloh Pecan Farms. Today, Owen Smith Cemetery is in one wooded acre in the middle of rows of pecan trees. Even the Lowndes County Tax Assessors map does not seem to know who owns the cemetery, it has the name of the owner merely as "Cemetery." There have to be numerous descendants in the area and farther away.
This Monday, I got to this cemetery from the Boys Ranch, directed by their helpful staff. While I know the current landowner, and he has previously told me I could go anywhere on his land, I don't know if there is actual public access.
The north edge of the cemetery acre is on the Berrien-Lowndes County line. The Withlacoochee River is 2,000 feet due west.
-jsq, John S. Quarterman, Suwannee RIVERKEEPER®
You can join this fun and work by becoming a WWALS member today!
Short Link: