If drilling mud may be released, how can this also be? "No wastewater has been or will be dumped into the Withlacoochee River." Sabal Trail seems to have contradicted itself.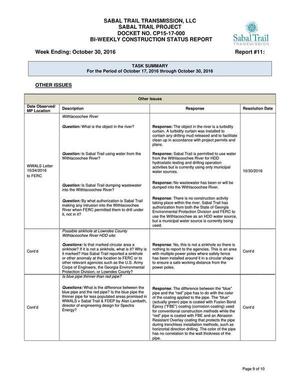 And didn't answer the permit questions from WWALS. Nonetheless all their responses are marked "Resolution Date: 10/30/2016". Nope, not resolved, Sabal Trail. See new questions.
Sabal Trail also said (see the PDF) it was completing drilling under the Flint River, was drilling under the Ochlockonee and Withlacoochee Rivers in Georgia, had just started under the Santa Fe River, was doing clearing and pad preparation for the Chattahoochee and Suwannee Rivers, and hadn't yet started anything at the Withlacoochee (south) River in Florida. Plus quite a few complaints and questions, including some from FERC, and some archaeological discoveries which Sabal Trail and FERC hid under "Privileged and Confidential information".
The Sabal Trail responses labeled Continue reading →