How can there be soil mixing yet zero noncompliance incidents?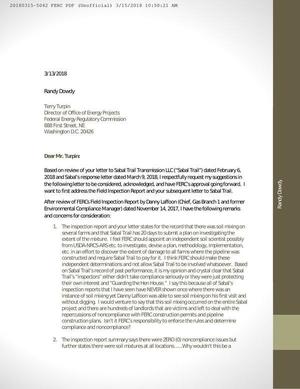 Randy Dowdy asked directly to FERC, following up his call in AgWeb for an independent investigation of Sabal Trail's destruction of his world-record-holding soybean fields in Brooks County, Georgia.
Dowdy doesn't trust Sabal Trail or anybody it sends to investigate that soil mixing. He's hardly the first to say Sabal Trail's inspectors don't; see for example FERC's Moultrie Scoping Meeting 2015-09-29 where James Bell said pipeline inspectors stood around until they noticed him watching, Sandra Jones said the surveyors were not qualified, and Attorney Daniel Dunn said Sabal Trail operates under darkness of misinformation. Dowdy may be late to the opposition, but he is determined.
Sabal Trail is still a stagecoach line in an electric car world, except stagecoaches didn't destroy farmers' fields.
Continue reading