This is why WWALS recommends filing a float plan, or in this case, a hiking and camping plan.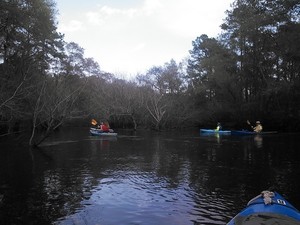 WALB News Team, 17 January 2016, Campers rescued from rising floodwater, warning issued,
BERRIEN CO., GA (WALB) – The Berrien County Sheriff is sending a warning to residents to stay off the Alapaha River.

"Its not a good time to be camping out on the river," said Sheriff Anthony Heath.

About 11 a.m. on Sunday, four Berrien County campers had to be rescued after they were surrounded by rising floodwaters. A father, his daughter, son, and son's girlfriend hiked downstream and set up camp at the Alapaha River bridge near state Route 135, south of Willacoochee.
The VDT says they camped on Saturday, and were found the next day. Terry Richards, Valdosta Daily Times, 19 January 2016, page 8A, Stranded campers réscued, Continue reading →