A medium length summer paddle on the Middle Suwannee River: Fort Macomb Ramp to Ivey Memorial Park June 10, 2017, past springs, shoals, and Branford. This one will probably take about 5 hours paddling, or 6 hours including shuttle. With lunch, swim stops, and bon-bons, of course.
Bring the usual personal flotation device, boat paddles, food, drinking water, warm clothes, and first aid kit.
When: 9AM Saturday 10 June 2017
Put In: Ft. Macomb Ramp, river mile 86.6
From Mayo, travel east on US 27 to CR 410; turn left on CR 410; follow to boat ramp.
Take Out: Ivey Memorial Park Ramp, river mile 76.0
Boat ramp is located in Branford on the south side of US 27 at the Bridge in Ivey Memorial Park.
29.9538379,-82.9303607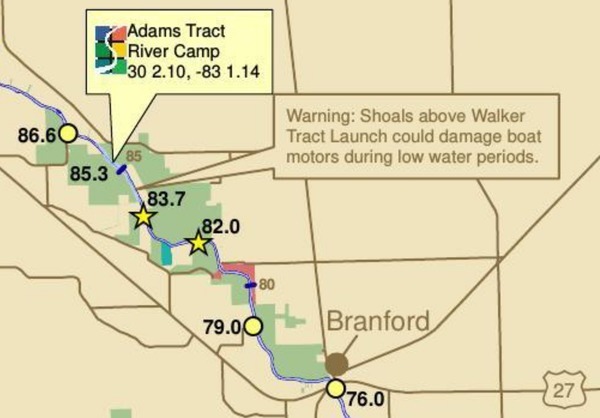 This map detail and all landing directions are from Continue reading →